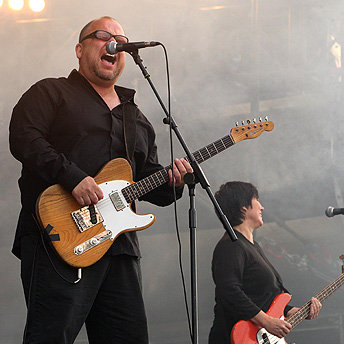 The Pixies took the stage at the Isle of Wight festival last night, marking its first gig since wrapping up its 2004 reunion tour and its subsequent festival gigs in 2007.
Frank Black, Kim Deal, Joey Santiago and David Lovering treated the crowd to a nearly hour-and-a-half greatest-hits set that kicked off with "U-Mass" and featured "Debaser," "Gouge Away" and "Gigantic" along with a cover of the Jesus and Mary Chain's "Head On" and a version of Neil Young's "Winterlong."
The show went off without a hitch, save for a moment when Black and Deal laughed off a mistake that ended "In Heaven (Lady in the Radiator Song)" early.
After Deal told Black he was supposed to scream on the track, he replied, "I haven't screamed since about 1989″ and the band cracked up.
The set ended with an aptly named song: B side "Into the White."