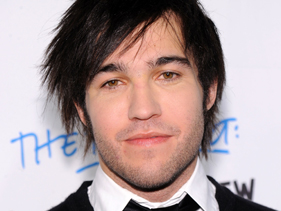 With each passing week, we're seemingly learning more and more about Pete Wentz's new Black Cards project.
First, the information came in drips and drabs – a snippet or two of a song, a few sentences from Wentz about who wasn't in the band. Then things picked up a bit, when the bass player posted a lengthy message on the Cards' site and then revealed the identity of the band's mysterious female singer to Rolling Stone.
But for all we know, there's still plenty we don't. And Wentz doesn't exactly seem like he's in a hurry to fill in all the Black Card blanks just yet. There is one misconception about the band, however, that he couldn't wait to clear up: Despite what he may have written in that message on the Black Cards' site about how he was influenced by a trip to Jamaica, this definitely isn't a reggae band.
"I think it came off as though it was gonna be a reggae band … that's not true," he wrote in an e-mail to MTV News. "It's a mashing together of ideas – the first few pieces we put up were more big-band/jazz/dance, [but] I don't know how to describe it. There are a few songs that have more of a reggae swing to the beat. I think I meant that I'm interested in making global music. I like the idea of art transcending cultures and borders … [but] who knows whether I can."
Of course, Wentz ended that statement by adding that the Cards do have one song – tentatively called "Summer Nights" – that "reminds me of Montego Bay … but it's not necessarily a reggae song though."
Despite such vague statements, Wentz swears that he's got a plan for the Black Cards, even if it's a pretty loose one. After spending months searching for a "quirky, British girl" to front the band, he heard unknown singer Bebe Rexha – who hails from Long Island – laying down tracks in an adjacent studio, and decided to sign her up on the spot.
"Really, [the band] wasn't even a thought in my head until it all clicked together. I didn't really even want to talk about Black Cards until we had figured it all out," he wrote. "The truth is we're writing/recording about a song every week or two weeks. Now we're just trying to beat other songs we had."
Wentz has got big ideas, for certain, but he's still trying to figure out how – or, really, if – he's going to be able to pull them off. And that applies to the question of whether the Cards will be taking their act on the road anytime soon.
"We have to figure out exactly what is practical. To me, if and when we play shows, I want them to be events," he wrote. "I think this music lends itself to different imagery and exhibition [more] than anything I've been a part of before."
Tags:
Black Cards
,
Pete Wentz