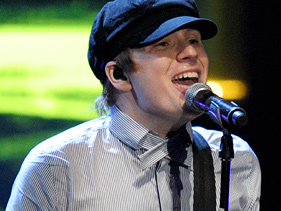 There's a reason Patrick Stump's Web site just underwent a drastic redesign, but it's not what you think it is.
On Wednesday, the Fall Out Boy singer scrapped the cartoon-like feel of his site in favor of a black background and a foreboding quote from French author Anais Nin set in white lettering: "And the time came when the risk it took to stay closed in a bud became more painful than the risk it took to bloom."
Most fans interpreted that quote to mean he is going solo, especially with Fall Out Boy on a freeform hiatus  at the moment. Stump, however, says he made the change not to kick off some confounding viral campaign for his first solo effort, but because he had just grown tired of the old site's color scheme.
"I don't really believe in viral stuff and manufactured mystery," Stump said. "I just didn't like the way my site looked anymore."
But perhaps not so coincidentally, he is working on a solo album.
"I'm working on an album," he said. "I'll be writing/producing/performing everything myself. Stay tuned."
Stump – who has produced for the likes of Cobra Starship, Gym Class Heroes and the Cab – wouldn't reveal any additional details about his mysterious new album. But he updated his Web site again on Thursday, this time with a video that showed him playing drums, guitar, organ and horns, among other instruments on a funky track. But no matter the absence of his band, Stump decries the usage of the term "solo project" to describe his current work, saying it carries a decidedly negative connotation.
"I never liked that phrase, but I'm sure it will get used," he said. "'Solo' just sounds to me like it implies that it's some kind of vacation or something, you know?"
Tags:
Fall Out Boy
,
Patrick Stump