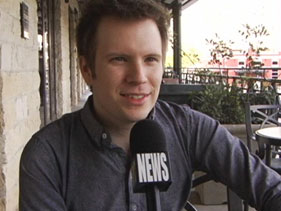 At South By Southwest, Patrick Stump unveiled songs from his much-discussed solo project, and now he's sitting down to talk about those songs and the album from which they'll come.
Much like his SXSW show, the still untitled album will feature Stump – and no one else. He's playing everything on it and it will feature no guest stars. The decision to go it alone was a multifaceted one, in part due to his desire to get the songs in his head onto an album and part due to the fact that he's just not that good at working with others.
"The record is … I play everything on it. And I'm kind of being very strict about that, because it's one of those things where I've always wanted to do it, but also because I've had a lot of friends I've wanted to work with, and it's sort of a nice blanket rule to work under, because then I don't have a sea of guests [on the album]," Stump told MTV News.
"Plus, I feel like some musicians are really good at relating to other musicians and improvising on the spot. I don't know if that's my strength. I'm more of an internal musician … I groove a lot better with myself than I do with other people, so it's a different sound altogether. And it's also this big, convoluted way to get me to play drums again, because I really just miss playing drums," he jokingly added. "And there's no reason for me to play over [Fall Out Boy's] Andy [Hurley], because he's a really good drummer."
So when then album does hit stores – Stump is currently mastering, will mix in May, and hopes to have the finished product out this summer – fans will hear plenty of instruments (drums, keys, guitar and bass, plus a whole lot of horns), all of which were played by him alone. And while the video he posted on his official site earlier this year hinted at that, there's plenty that's changed about the album too.
"It's a really strange thing. I don't know anymore. I had all these ideas, these kind of fun ideas – and a lot of people pointed to the 'funkiness,' and that's definitely something that is a part of my writing – but there's also been, since the video came out, there's been a lot of really trying things that have happened in my personal life," Stump offered.
"And I've ended up having a lot of writing to do, that took on a more … cathartic thing. So it's kind of half-and-half now – I don't really know what record it is anymore. I could've told you a month ago that it was going to be more of a funk record, but now I don't really know."
A pair of songs on the album, "Spotlight" and "The Bad Side Of 25," deal explicitly with those "trying" things, which, without getting into too much detail, involve the deaths of not just Stump's uncle, but friend and potential collaborator T-Bone Wolk. But there's seemingly not shortage of drama in Stump's life these days, as evidenced by the firestorm that erupted after he told Spin magazine "I'm not in Fall Out Boy right now."
The problem was, his comments came immediately after Pete Wentz had taken to his Twitter account to declare that he "can't imagine playing in Fall Out Boy again" and almost immediately fans began pitting one against the other. But that's not the case, according to Stump. Timing, he admits, has never been his strong suit.
"Well, one of the things that was really frustrating was that … there was a story that was happening, and then I was doing my thing. I happily didn't know about any of it. And I had an interview scheduled from weeks before that I was all excited to do," he said. "And I go to do this interview, and all of a sudden, it's an interview in reaction to [what Wentz had written], which I was blissfully unaware of. It's just frustrating how much context affects the arts. … It was a really busy couple of days. It was insane. My phone was off the hook for a few days."
But for the time being, he's putting all that FOB talk behind him and focusing on getting the Patrick Stump Project ready. It's been a pretty hectic voyage just to get to this point, but Stump chalks it all up to on-the-job training. He's learning the solo artist gig on his feet and he's not shying away from making big plans for the future.
"Everything's kind of been a new learning experience. I'm having to do interviews where what I say matters. It's very strange," he laughed. "I have this big open road right now, as far as how I want to do it. I want to get a band together, and I want to practice, I really want to go out and play shows. And I'm hoping that people like the record enough so I can go do some small theaters and stuff. But we'll see how it goes."
Tags:
Fall Out Boy
,
Patrick Stump