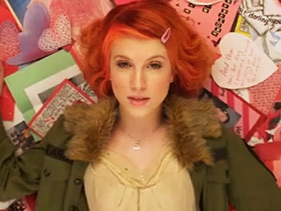 The new video for Paramore's latest single, "The Only Exception" – which premiered on the band's Web site on Wednesday – is by far the most visually interesting and complex clip the group has ever produced. So it's a little bit surprising to find out that the video's director, photographer Brandon Chesbro, counts "The Only Exception" as his first foray into music-video direction.
"I've been working with [Paramore] for two years, but this is my first music video for anybody," said Chesbro on the phone from Australia, where he is currently on tour with the band. "I went to film school, so I was prepared for all the cameras and gear, but it was still pretty intimidating."
Chesbro has worked closely with the band before, shooting the documentary "40 Days of Riot!," which appeared on the group's "The Final Riot!" DVD, and filming a doc chronicling the making of the group's latest effort, Brand New Eyes. But the plan for him to helm a video has been in the works for a while. "I didn't want to do 'Ignorance' because it was the first single and it was too big and important," he explained. "When I heard the idea and the concept for 'Brick by Boring Brick,' I said I didn't want to do that because it was going to be blue screen and really scary."
Despite the complexity of the video, the whole process was remarkably efficient. "They asked me to do 'Exception' in December, and I've been working on ideas and storyboards since then – but the whole production only took four days," he explained. "We built the set, got all the props, shot it, edited it and wrapped it up. Usually you take a few weeks to edit, but I knew exactly what Hayley and I wanted, so it was a crazy-insane-simple-perfect process."
Casting was also straightforward. The guy playing Hayley's dad in the clip is her actual dad and the guy who shares the couch with Williams is a friend of the director. Roadblocks were few and far between, but a huge snowstorm in Nashville nearly derailed the shoot because the rest of the band couldn't get to Los Angeles, where Chesbro and Williams had already set up shop. "We ended up having to change the schedule around, and for a while we didn't think they would make it, but it turned out fine," he said.
Chesbro is most proud of the clip's key scene: an overhead shot of Williams laying down on a pile of Valentine's Day cards that were made by fans of the band. Williams dreamed up the shot and tapped the fans to contribute cards. "In two days we got 500 cards," he said. "The band has crazy fans. All those cards are so detailed – these kids spent serious time on these cards. That's my favorite shot of the whole video. It was the first thing we shot and I thought that if something falls apart and we only have that one shot, that could be the video all by itself and it'd be perfect."
While on the road with the band, he's stockpiling footage for a yet-to-be-determined video project. "I don't know if we're necessarily working on a DVD, but we like to have a lot of content," Chesbro said. "We have two ideas that we're playing around with, so we're just stockpiling footage right now."
In the meantime, will we see his director's credit appearing more frequently? "I'd really like to do more videos now," he said. "This video turned out so perfect that I'm worried nothing else will turn out as good. But if this is my only video, I was super-proud to be a part of it."
Tags:
Paramore