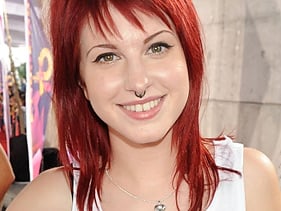 Paramore singer Hayley Williams regularly tweets about movies, rants about UFC events and exchanges inside jokes with her own band members, but posting a video is uncommon.
Over the weekend, Williams posted a rare video to her Twitter feed.
"Feel a bit crazy posting this … but you asked for it!" the 21-year-old frontwoman wrote. "My apologies to Miss Gaga. Love, your friend, Lady Haha."
The link revealed a video of Williams sitting at a piano, adusting her hair and then singing and playing Gaga's "Bad Romance."
Williams gave Gaga's hit a nice little remix, making the solo piano version into a cabaret shuffle. She seemed to take extra pleasure in the "Ooh la la" portions of the tune, rolling the R's and belting out the notes.
The video came as a result of a tweet she sent only a few hours before.
"Playing 'Bad Romance' on the piano and pretending to be Lady Gaga," she wrote. "Why haven't I ever done this before? Most fun I've had in ever."
Williams is just the latest star from the rock world to take on a Lady Gaga song. She joins the ranks of Chris Daughtry, Weezer, Maximo Park, We the Kings and, of course, Eric Cartman of "South Park" fame. Could "Bad Romance" sneak into Paramore sets in the future? Fans will find out when the group kicks off the latest stretch of tour dates on April 26 in Knoxville, Tenn.
Tags:
Lady GaGa
,
Paramore