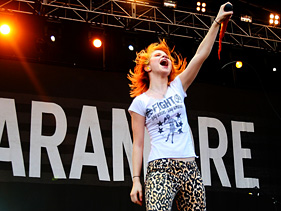 Life on the road rarely stops for Paramore. Still riding the wave of  its acclaimed 2009 album Brand New Eyes, the group just returned from a trip to Australia and Asia and is currently resting up for another run through the United States beginning at the end of April.
On March 22, Paramore announced  it will  be headlining the 2010 Honda Civic Tour, which will  stop  in 29 cities from July 23 to September 19.
"We are so excited to be headlining the Honda Civic Tour and to hit all these great cities and see our fans across the country," Paramore singer Hayley Williams said in a statement. "We have a killer lineup and can't wait until July."
The package tour will also feature Tegan and Sara, as well as two more acts that have yet to be announced. Paramore fans can plan way ahead, as pre-sale tickets will be available to the group's fan club at 3 p.m. on Monday, with additional pre-sale tickets available through the tour's official site starting on Tuesday. The general on-sale date for most of the shows is Saturday.
Tags:
Paramore
,
Tegan and Sara