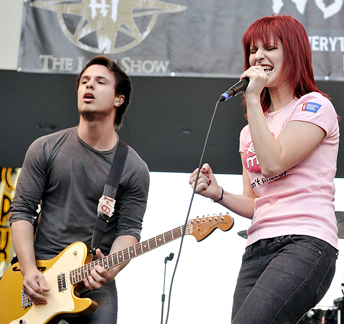 Paramore will release the follow-up to their breakout album Riot! in September, the band's label confirmed yesterday.
"We made a record that is exactly what we set out to make," fiery frontwoman Hayley Williams said on the band's LiveJournal page. "There's fast, there's slow, and in between… happy, angry, desperate and over it. And I can't believe it's real."
For their third album, the Nashville power punks worked with Rob Cavallo, who produced Green Day's American Idiot, Dave Matthews Band's Big Whiskey and the GrooGrux King and Paramore's own contributions to the Twilight soundtrack, including the hit single "Decode."
"When I started writing for the album, I was really nervous about my role and what my opinions were worth nowadays. I figured, who is going to care what I have to say? We had a pretty successful record, we tour in a bus, buddy-up with MTV, and we recorded for the Twilight soundtrack… no one wants to hear me whine," Williams wrote.
Since Riot!, the band has faced break-up rumors, parents' divorces, even the death of a former member.
"Most of the songs you'll hear have to do with friendship. In fact, this is the first Paramore album that wasn't written mostly about love relationships. I have made a lot of friends and I've lost a lot of friends over the past couple years… and it's all gonna be there for you to dissect," Williams explained.
While September seems pretty far off, Paramore will likely test out some of their new material when the band hits the road this summer to open for No Doubt.