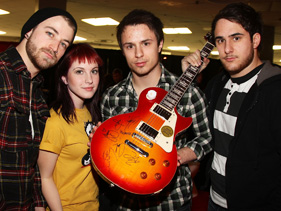 On December 18, Paramore announced that brothers Josh and Zac Farro were leaving the band, confirming rumors that had begun swirling earlier in the week.
In a blog post on the band's official site Paramore wrote that the Farros had actually decided to leave the group "a couple of months ago," and that, while fans might be shocked by the news, the remaining three members – frontwoman Hayley Williams, bassist Jeremy Davis and guitarist Taylor York – weren't.
"None of us were really shocked. For the last year it hasn't seemed as if they wanted to be around anymore," the statement read in part. "We want Josh and Zac to do something that makes them happy and if that isn't here with us, then we support them finding happiness elsewhere."
The Farro brothers – guitarist Josh and drummer Zac – founded Paramore with Williams and Davis in 2004, and though the group has lost two of its core members, they pledged to continue on.
"We never for a second thought about leaving any of this behind. We really hope that you can be encouraged by the fact that the three of us who are still here are ready to take on another chapter of our journey together," the statement read. "You have always been what keeps us going so why would we stop now? We want to stick by you. Knowing that we have a unified passion and a clear vision makes us feel stronger than ever."
Earlier this week, a blog post announcing the Farros departure began making the rounds. And though it was credited to the band, in their statement on Saturday, Paramore denounced it as "a fake."
"The 'blog' that was posted regarding everything that is going on with our band …we aren't sure who did it or why… And we aren't sure how they timed it this way," their statement read. "This is the first time that we have spoken out about what's going on and we wouldn't have released an official statement that important through a personal blog. So, we're sorry for any confusion and just to remain clear, this is the first time we have spoken out about this."
Paramore concluded by thanking their fans for standing by them, and promised that 2011 will be a big year for the band. Farro brothers, or not.
"We have some amazing things lined up for next year starting with our tour in South America. We are still coming to you and we are excited about who we are bringing with us! The tour is still on and we can't wait to see you all," they wrote. "As we look back, and now as we look with excitement to the future, in all of this what truly matters are the good times. The pictures of us with our arms around each other, the long van rides, your faces while you sing along as we play. Thank you for getting us right here to this very moment. We look forward to our best times. And we hope you will go there with us."
Tags:
Paramore