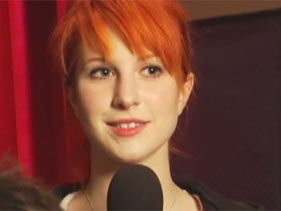 There was a point – midway through the writing process of Paramore's new album – when they almost gave up.
Racked by doubts that they had anything left in the tank, struggling to write material that matched the ferocity of their breakout Riot! album and smothered by unspoken tensions that had simmered ever since they nearly split in early 2008, they were treading water in their hometown of Franklin, Tennessee. And with deadlines – not to mention a tour with No Doubt – looming on the horizon, the situation was getting dire.
"We went through a lot of heavy stuff as a band… and it was nothing like, 'Oh, it's this situation on this day,' or whatever. It was just, personally, we were all growing up, and sometimes, when you're growing up, you're not always growing together," frontwoman Hayley Williams told MTV News. "And when you don't talk about it, there's even more of a gap. I've felt that a lot over the past couple years. We didn't ever talk about it because we didn't have time to talk about it."
The tension, said Williams, made it difficult for the band to come together to create new material for a second album.
"So when we finally had all this time to write these songs, and, you know, [guitarist] Josh [Farro] and I hadn't written in a while – besides what we did for 'Twilight' – and all of a sudden, we were in a room together," she said. "Like, 'Hey, let's write a record that's bigger than Riot! All these people are expecting it.' And it didn't feel healthy, it didn't feel like us, you know? It didn't feel like what we started for."
And while the communication between band members had all but dried up, Williams herself was batting with the fact that she might be communicating too much with her lyrics. She began to doubt her skills as a songwriter and a leader, something that might seem implausible given her onstage performances. But it was very real, so much so that it began to stifle her ability to innovate.
"I had doubts, not just for us as a whole, because… I wouldn't want to play with anyone else, you know what I'm saying? I didn't have any doubts in them as much as I did in myself," she explained. "I was writing these lyrics, and they didn't feel good – some of it hurt, some if was like, 'Am I being too honest even with myself?' I had doubts that it was the right record."
But, as luck would have it, when   producer Rob Cavallo visited them in Franklin, he assured them that – deadlines be damned – they were right on track with the new album and that they had what it took to surpass the power of Riot! With that, the tension lifted, and "Ignorance" – a spiky slab of pure Paramore power pop – was born.
Aside from his visit, Williams said that once the band's members were able to reconnect with each other on a personal basis, the new album could move forward.
"I remember talking with everyone, which was the first real conversation I felt we had in a real long time," Williams said. "We were all really honest with each other about where we had been with our lives over the past two years. Like, 'Hey, I lost touch with you… Let's backtrack a little bit.' And once that was done, it was back to the old us and back to the old reasons why we started a band and why we wanted to play music together."
Recharged, Paramore packed up their gear and headed out to Cavallo's Calabasas, California studio to begin work on the album. They've since wrapped production, and the still-untitled effort will hit stores in September. And Paramore, for the first time in a long time, are doubt-free and ready to be a band – and friends – again.
"There were some doubts, for sure, but we're a better band for going through that," Williams smiled. "I don't know what happens next, but I – we – we're all ready for it."