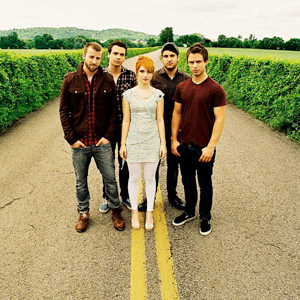 Fueled By Ramen recording group Paramore has announced details of their hugely anticipated third album, Brand New Eyes, which will land in stores Sept. 28.
Produced by Grammy Award-winner Rob Cavallo (Green Day, Kid Rock, My Chemical Romance) and co-produced by the band, Brand New Eyes  is the long-awaited follow-up to 2007's US platinum certified, and UK gold certified, second album Riot!, which has now sold over 2 million copies worldwide. The new 12-track collection is unquestionably Paramore's brightest album to date, fit to burst with all the exuberant melodies, breathless hooks and irrepressible energy that has made the Nashville-based band one of the most popular rock outfits in recent memory.
Brand New Eyes is a case study in the band's versatility and contains as many driving, fist-pumping anthems like first single 'Ignorance' as it does upbeat pop masterpieces like 'Where The Lines Overlap' and lilting, acoustic ballads such as 'Misguided Ghosts'.
"We really tried to venture out and experiment with our sound to see how far we could push ourselves this time around," Josh (lead guitar) explains. "'Misguided Ghosts' is just finger-picking and that's not really Paramore's sound but for some reason it works." he continues, "I don't think it would have fit on Riot! at all, but it's definitely the perfect song for this album."
The rollercoaster ride that Paramore have experienced over the past few years was a huge influence on the lyrics for Brand New Eyes. However, it was important for Hayley (vocals) not to write a clichéd collection of songs about the perils of success.
"I watch all these bands go from being really hungry on their first album to talking about paparazzi following them around on their next one," Hayley explains with a laugh. "I was so afraid of sounding like that."
Instead, Hayley decided to dig into her own psyche and explore some of her deepest emotions. Hayley's honesty is evident in tracks like the acoustic ballad 'The Only Exception' and album closer 'All I Wanted', both of which give an unapologetic glimpse into the inner workings of what was happening in her head over the past two years, a reality that was initially scary for the 20-year-old to advertise to the rest of the world.
"There's something Hayley is able to draw out of me that I can't seem to do with anyone else," Josh responds when asked how the band are able to craft music that defies gender and genre stereotypes. "Hayley hates the word 'mature', but I think it's really suitable for this record because there's much growth that's evident on this album."
Track Listing:
Careful
Ignorance
Playing God
Brick By Boring Brick
Turn It Off
The Only Exception
Feeling Sorry
Looking Up
Where The Lines Overlap
Misguided Ghosts
All I Wanted
Decode (Twilight Soundtrack version)
Tags:
Paramore