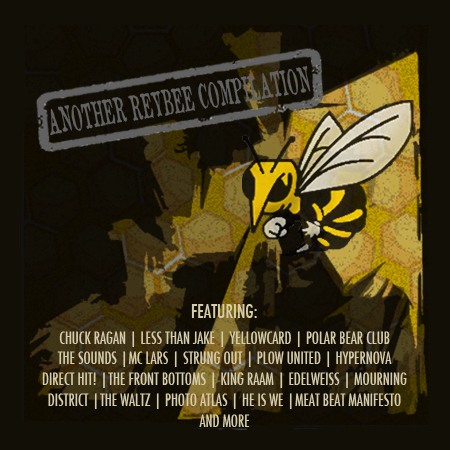 Our dear friend Rey Roldan of Another Reybee Production experienced an awful fire in his loft. Rey has played an instrumental part in our music scene for a long time, and could really use our help.
Paper + Plastick has put together a 41 song compilation with some amazing artists at the price of "donation only" to help Rey. Please considering donating in exchange for an instant download- even a small amount helps!
Click here to donate and purchase the compilation.
Below is the tracklisting:
Tracks
1 The Photo Atlas – Jealous Teeth
2 City Rain – Montage
3 Arts and Crafts Movement – Los Angeles
4 Chuck Ragan – Wash My Feet In The Waves
5 The Gamits – Delusional
6 Edelweiss – Icarus
7 Have Nots – Louisville Slugger
8 The Front Bottoms – More Than It Hurts You
9 MC Lars – The Bill and Sarah Wedding Dance
10 The Stereo – Home (Acoustic)
11 Strung Out – Firecracker
12 The Waltz – The Capitol Of Everything
13 Mike Felumlee – We'll Find A Way
14 Brian McGee – Hold Sway
15 Hypernova – Extacy
16 King Raam – The Hunter (Shekarchi) (Feat. Esfund & Shara)
17 Red City Radio – Captioned For The Hearing Impaired
18 Veil Veil Vanish – Change In The Neon Light (Black Cloud Remix)
19 Reverse The Curse – The Space In-Between
20 Samiam – Dead
21 Landmines – Black Tide
22 VNV Nation – Nova
23 IAMX – Fire And Whispers
24 Killola – Stop It. I Like It
25 Polar Bear Club – Kneel On Nails
26 Picture Me Broken – Dearest (I'm So Sorry)
27 The New Rochelles – This Is My LJ
28 Candy Hearts – Good Enough
29 Direct Hit! – Monster In The Closet
30 Plow United – Header
31 Great Cynics – Twenty Five
32 Hank & Cupcakes – Hit
33 Yellowcard – With You Around
34 He Is We – Pardon Me
35 Weerd Science – Heaven Burns (Demo)
36 The Sounds – Something To Die For (MFMB Mix)
37 Miss Derringer – Bulletproof Heart (Live)
38 Meat Beat Manifesto – Easier Listening
39 Morning District – Bullet And A Brightside
40 Less Than Jake – Goodbye, Mr.Personality
41 The Color Fred – Complaintor