AFTER SPENDING two years on the road promoting their debut album, 2005's "A Fever You Can't Sweat Out," the members of Panic at the Disco focused on two new efforts. The first was recording a new disc. The second?
"We've been playing a lot of hacky sack and getting really good at it," bassist Jon Walker said with a laugh. "We've been bringing it back. It's the best exercise you can ever get – and it's fun."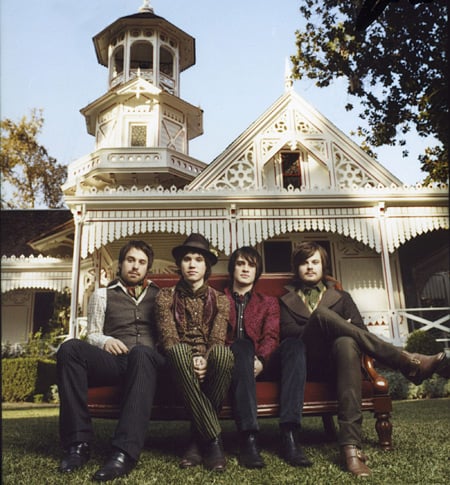 Which just goes to show that even though the group, once known as Panic! at the Disco, has dropped its exclamation point, it hasn't lost its energy.
And there's a lot to be excited about. The band's premier disc dropped when the quartet was fresh out of high school – and that came after the group was signed to the label helmed by Fall Out Boy's Pete Wentz before they'd even played a show.
The signing allowed the band to bypass small-club touring and jump straight to the bright lights of arena stages. The success of the album's first single, "I Write Sins Not Tragedies," led them to sold-out shows, overseas tours and the cover of Rolling Stone.
Walker, who joined the group in 2006 when he replaced bassist Brent Wilson, said the experience was just a bit mind-blowing.
"It's kind of weird that was our first album," he said. "We were 17 years old. You don't know if anybody else is going to hear it, you're still in high school, and a lot of things change between 17 and 21."
Luckily, the band's speedy ascent to fame didn't stunt its growth.
"Looking back on it, we couldn't be any happier," Walker said. "It allowed us to do what we're doing right now."
And what they're doing now is a little bit of everything.
On its latest release, "Pretty. Odd." (Fueled by Ramen/Decaydance), Panic at the Disco kicks around a jumble of influences, from The Beach Boys to The Kinks, from punk rock to ragtime. The album maintains a sense of cohesion though the energy and passion the group brings to each song.
"We never really had any 'intentions'" for the album, Walker said. "We just wanted to make an interesting record. We didn't want it all to make complete sense. … A lot of the album's songs sound different in their own way and that's because we couldn't decide what we wanted to do."
"'Nine in the Afternoon' and 'That Green Gentlemen' were the first two songs we wrote, and we realized after that we were just having fun writing songs and being in a band and being able to do whatever we wanted," Walker said.
While the lessons of age and years on the road helped inform the band's progression, some of the album's influences were more deliberately picked.
"Our producer, Rob Mathes, did all the string and orchestral arrangements on the record and I think that's why we wanted him. He really got what we wanted to do and kind of understood that we didn't know exactly what we wanted to do. We just wanted to make it as good as we possibly could."
As they prep for their first full tour in more than a year, Walker said he and his bandmates are working to stay on their toes.
"[The songs are] going really good, but we're still learning how to play them," he said. "Maybe by D.C. we'll have them down."