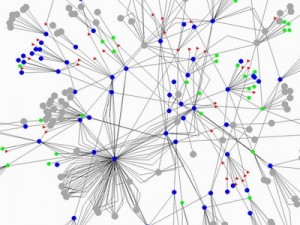 Peer-to-peer music sharing, the type of service which helped create the digital music industry, is at an all time low.
According to research group NPD Group, the shuttering of Limewire's music file sharing service has led to a similar decline in the usage of such services throughout the U.S. The number has gone from a high of 16 percent in the fourth quarter of 2007 to just nine percent in the fourth quarter of 2010, right after Limewire shut down its file-sharing services due to a court order, when a federal judge sided with the Recording Industry Association of America (RIAA).
"Limewire was so popular for music file trading, and for so long, that its closure has had a powerful and immediate effect on the number of people downloading music files from peer-to-peer services and curtailed the amount being swapped," Russ Crupnick, entertainment industry analyst for NPD, said in a statement.
In sheer numbers, Limewire represented over half of the file sharing users in the U.S. during the third quarter of 2010. Other sites such as Frostwire and the Bittorrent client u-Torrent rose after Limewire shut down its file sharing service, but it remains to be seen whether or not they can pick up the slack left behind.
"In the past, we've noted that hard-core peer-to-peer users would quickly move to other Web sites that offered illegal music file sharing. It will be interesting to see if services like Frostwire and Bittorrent take up the slack left by Limewire, or if peer-to-peer music downloaders instead move on to other modes of acquiring or listening to music," Crupnick said.
Companies like Napster, with its peer-to-peer file sharing service, helped create the digital music industry in the late 1990s. However, a battle with the RIAA and popular music artists ensued with the latter saying those types of file sharing services directly damaged the industry.