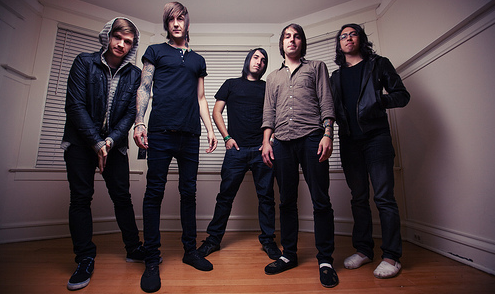 Of Mice & Men have parted ways with vocalist Jerry Roush and have announced that they will reunite with original front man Austin Carlile. The reformed lineup will be heading into the studio in early January to record the follow up to their Rise Records self-titled debut. Guitarist Alan Ashby, who had been working with Austin on a new project during his time apart from OM&M, has also officially joined the band. Shayley Bourget will now play bass and Alan will assume his position at guitar. Phil Manansala and Tino Arteaga remain on guitar and drums, respectively.
On the return of Austin, the band stated; "To be put simply, both OM&M and Austin want to make another album together because we want give our fans the familiar sound they loved about our first album and build upon that for our follow up. We were willing to put our differences aside and re-establish our friendship and love for making music together."
Starting March 10, Of Mice & Men will be headlining the 2011 Artery Foundation Across The Nation Tour with guests Isetmyfriendsonfire, Sleeping With Sirens, Woe, Is Me and The Amity Affliction.
Tags:
Of Mice & Men