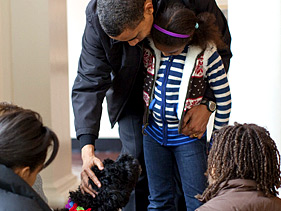 Forget the crumbling economy and those scary Somali pirates. The big presidential decision everyone has been waiting for since Barack Obama took office was finally resolved over the weekend, when the first family welcomed Bo the Portuguese water dog to the White House.
According to TMZ, Sasha and Malia finally got their dog on Saturday, but not before the eagerly awaited unveiling almost turned into a controversy. While the Washington Post had been promised dibs on the feel-good story, TMZ tried to spoil the surprise by breaking the news over the weekend, despite the Obamas' plan to keep the news under wraps until Tuesday.
The 6-month-old curly-haired black-and-white dog, who arrived with a colorful Hawaiian lei around his neck, was obtained from the same Texas kennel that bred Senator Ted Kennedy's three dogs, according to the Post. Bo – originally known as Amigo's New Hope, then Charlie – was born in October, and even before the breeders had any inkling that the Obamas would be in the market for a White House pup, they named the litter the "Hope and Change Litter," out of their affection for the Democratic candidate.
The Obama girls first met the dog several weeks ago, when it was brought to Washington for a brief visit to see if the adoption would work out.
And, less than a week after the White House hosted what's believe to be the first ever Passover seder, the Obama's are breaking with tradition again on Monday by spicing up the guest list for the annual White House Easter Egg Roll. The event, which traditionally has a relatively staid group of guests, will feature performances from Black Eyed Peas' Fergie and reggae star Ziggy Marley, readings from Josh Duhamel and a handful of sports stars, including soccer player Julie Foudy, basketball player Renee Brown and football player Derrick Dockery.
The Associated Press reported that the 30,000 attendees will also get some sports tips from basketball players Marissa Coleman and Nikki Blue and soccer stars Brianna Scurry and Abby Wambach.