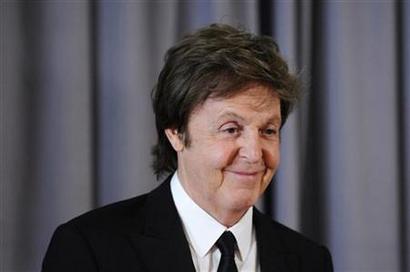 WASHINGTON — President Barack Obama presented Paul McCartney with a lifetime achievement award for his contributions to popular music on Wednesday night, and the former Beatle sang the song "Michelle" with first lasy Michelle Obama  looking on.
McCartney, 67, was given the U.S. Library of Congress Gershwin Prize for Popular Song by Obama and listened to a concert of his music performed by other singers before singing some of his own songs.
"I mean getting this prize would be good enough. But getting it from this president," McCartney said, smiling.
Obama called McCartney the most successful songwriter in history.
Musicians including Stevie Wonder, the Jonas Brothers, Elvis Costello, Faith Hill, Corrine Bailey Rae and Herbie Hancock performed McCartney songs.
Obama paused to remember people in U.S. Gulf Coast communities affected by the region's massive oil spill.
"Part of what gets us through tough times is music," Obama said as he lauded McCartney's lengthy career.
McCartney told Obama, "You have billions of us who are rooting for  you."
McCartney took to the stage singing "Eleanor Rigby," "Got to Get You Into My Life" and other tunes, including "Michelle," with the U.S. first lady listening nearby.
McCartney became the third Gershwin prize recipient after Paul Simon and Stevie Wonder.
Tags:
Paul McCartney
,
The Beatles