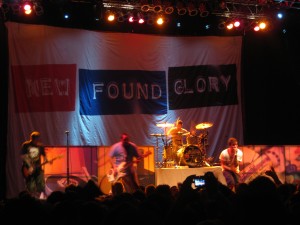 BOSTON  — Despite frigid temperatures, fans lined up as early as noon Sunday before sold-out headliner New Found Glory rocked Boston, commemorating the 10th anniversary of its self-titled debut album.
Saves The Day warmed up the crowd with a 14-song set. The emo-punk band was a great start-up before New Found Glory, as most of the crowd seemed to know much of the set, warming up its vocal chords to "Firefly" and "At Your Funeral." Security scrambled to keep up with the energy and the mosh pits that were forming, which made things that much more interesting and set the tone for the night.
A packed crowd of around 2,425 people bopped along to "Party in the USA" by Miley Cyrus just before New Found Glory took the stage, foreshadowing the real party to come. With the lights dimmed and Miley pumping out lyrics, the band came out of the darkness and broke right into track one, "Better Off Dead." There wasn't a single fan in the house who wasn't moving or singing along. As the band progressed through each track off of New Found Glory, the crowd's energy rose dramatically.
The band was having its own bit of fun, too.
"We're usually surprised by what show on tour is the best," said guitarist Chad Gilbert, "but not anymore  — Boston's it."
The band played all twelve tracks from the self-titled album in order before coming back for round two, complete with a new backdrop and old hits such as "All Downhill From Here" and "My Friends Over You." By the time that song was played, the entire floor was a mosh pit unlike anything ever seen there. The crowd was as into it as the band was — nostalgia at its finest.
Tags:
New Found Glory
,
Saves The Day