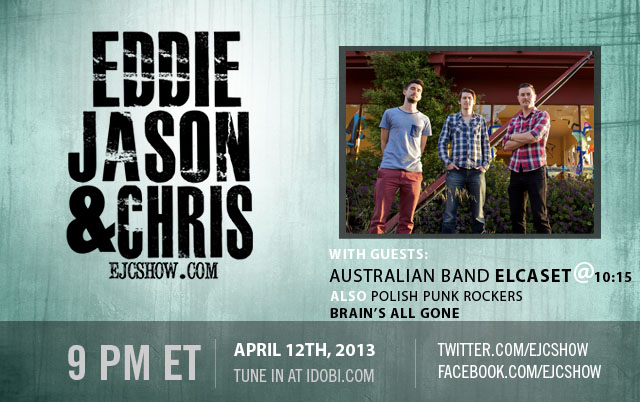 Tonight (4/12), Eddie Jason & Chris are digging deep and exposing you to two up-and-coming, hard working, international music acts that are busting their butts in the underground. We're giving you the  opportunity  to hear what's happening in small local music  scenes, internationally.
We'll go LIVE down under to  Australia  for Elcaset.
…although the band only formed in early 2012, Elcaset's members are no rookies…one was snapped up by Deck Cheese Records (UK home of The Living End and Jackson United)…
Also, all girl Polish punk rockers, Brian's All Gone will Skype into EJC LIVE!
Tune in tonight at 9p ET (6p PT), only on idobi Radio.
Call in:  1-888-99-IDOBI  (1-888-994-3624)
Skype:  EJCshow
Listen:  web player  /  app
Podcast:  www.EJCshow.com
Brain's All Gone "Outcast" Lyric Video