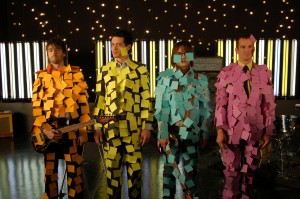 New Orleans-based eclectic/innovative rock quartet MUTEMATH has confirmed an appearance on The Tonight Show with Jay Leno this Thursday Jan. 15, 2009. The Grammy-nominated band will perform a brand new song entitled, "Spotlight," from the chart-topping Original Motion Picture Soundtrack, TWILIGHT, based on the Stephanie Meyers book which has become an international phenomenon. The soundtrack to the movie was released this past Nov. 4, 2008.
The critically-acclaimed band are currently in the studio recording their 2nd Teleprompt/Warner Bros. Records album. Release is expected later this year. Details to be announced soon.
MUTEMATH first came to national attention with their independently—produced breakthrough video for the song "Typical," — from their self-titled debut album– which was filmed as a continuous one-take performance filmed entirely in reverse. The results resonated wildly and a massive internet community rallied around the band. The band's debut album had already attracted a loyal fan-base and their reputation on the club circuit as an exceptionally diverse and energetic live attraction had been established and documented on their first live DVD, FLESH AND BONES ELECTRIC FUN (Teleprompt/Warner Bros Records 2007). Alternative Press Magazine named MUTEMATH "The #1 Live Band To See Before You Die," in their annual "Best Of" issue last year.
Over the past few years MUTEMATH have toured the globe, knocked-out audiences at nearly every influential music festival around the world and performed live on Letterman, Conan, Ferguson, and twice on the Jimmy Kimmel Show where the band made TV history last year as the first-Ever band to perform backwards, by recreating their "Typical" video performance live on a nationally televised network show. Again, the internet buzzed with excitement over the band's intrepid approach to forge new pathways with everything they do.
Don't miss MUTEMATH this Thursday, Jan. 15, as they perform "Spotlight" which will also appear on their upcoming full-length album. The Tonight Show starring Jay Leno airs at 11:35pm. Check local listings for details. Set your TiVo's or stay up late, it's going to be memorable.