When it comes to music, video games might be the last place you think to look. Aside from the obvious music-centric games like Guitar Hero and Rock Band, it's easy to overlook the soundtracks of modern games. But there's a lot of exciting musical innovation going on right now—featuring everything from popular artists contributing to game soundtracks to a resurgence in classical music.
In fact, after announcing a cool new collaboration earlier this year, the gaming world is heating up: Florence + The Machine & Final Fantasy XV. The Grammy nominated artist will be featured on the video game's upcoming soundtrack, singing a cover of Ben E. King's classic song "Stand By Me", which you can hear a preview of in the game's new trailer below.
Video game music is an ever-growing genre; if its impact on pop culture were a tangible thing, we'd be dealing with a decently sized crater. The music has come a long way from the 8-bit tunes in the '80s, but even those simple melodies are the humble foundations of the epic, emotional soundtracks performed by entire orchestras that we see today in popular games like the Final Fantasy franchise.
Writer Duncan Jefferies argues that game music has "quietly infiltrated mainstream culture" in his in-depth piece at How We Get to Next. He mentions the countless cover versions of game themes found on Youtube, some of which are immensely popular. Lindsey Stirling's Skyrim Theme counts more than 56 million views. Game themes and soundtracks have even revived classical music in a way. Jefferies says video game albums are regularly charting in countries like the United Kingdom, and live orchestras are adding video game themes to their repertoires. We're seeing pop culture and high culture intersect in a truly interesting place—music.
We're seeing pop culture and high culture intersect in a truly interesting place—music.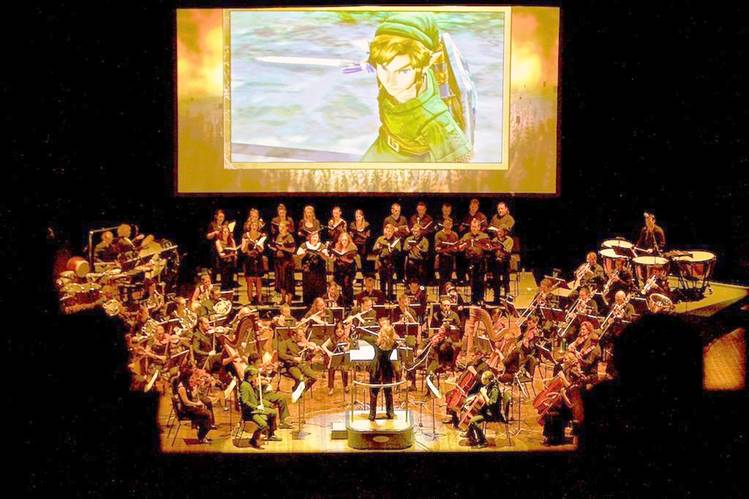 Having achieved such a level of familiarity, game music is even being featured in school orchestras, too. UCLA students created a Game Music Ensemble, which is an entirely student-run orchestra that solely plays video game scores. Orchestral game arrangements prove just as complex, creative, and satisfying as traditional classical compositions. It's no wonder that an entire generation is captivated by this new wave of symphony. This is good news for composers, too! GeekWire reported on a study finding that music composer and director jobs are on the rise—seeing a 178% jump in a 10-year period. SoundCon looked a little deeper in that data and found that the employment increase directly correlates to a rise in mobile gaming. Think about it—someone has to compose themes for those addicting apps like Candy Crush and Clash of Kings!
Jefferies may have been right about games infiltrating mainstream culture, but they're not doing it quietly anymore.
The film industry has picked up the game trend, too, with a handful of movies slated for release this year and more on the horizon. Granted, there have been movies based on video games in the past like Tomb Raider, Tron, its reboot Tron Legacy, and the Resident Evil series, but the upcoming releases hold a little more promise for success. Final Fantasy will release another CG movie this summer, titled Kingsglaive, with voice acting from top-billed actors like Sean Bean and Aaron Paul. The movie precedes the release of the game Final Fantasy XV in September. Other game movies include the animated Ratchet and Clank, and the live-action films Warcraft in June and Assassin's Creed in December. There's a lot to look forward to in the gaming world right now. Jefferies may have been right about games infiltrating mainstream culture, but they're not doing it quietly anymore.
With an artist like Florence + The Machine performing for the Final Fantasy XV soundtrack, I think this marks an opportunity for music fans to join game culture too, or at least the music side of it. It's the perfect entry point for a different audience. From 8-bit tunes to symphonic masterpieces, game music embodies the culture of a generation, and it's growing and changing along with us. It's a bright future for the gaming industry, and as both a music fan and pop culture aficionado, I think there's a lot to look forward to.
Tags:
Final Fantasy
,
Florence + The Machine
,
Geek Girl Riot
,
GGR
,
Lindsey Stirling