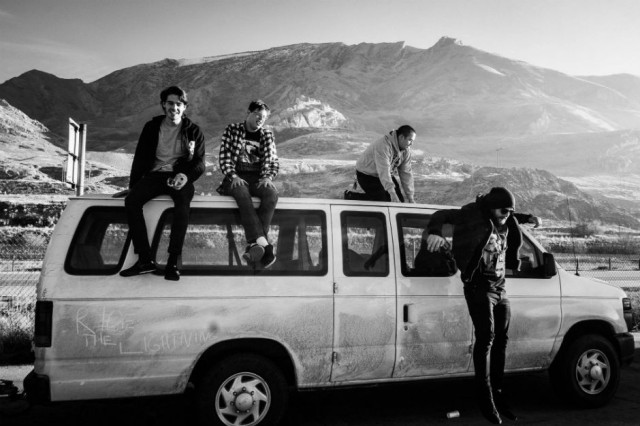 Modern Baseball have released a surprise EP titled,  MoBo Presents: The Perfect Cast EP featuring Modern Baseball.  The EP is streaming in full over at SPIN, and will officially release tomorrow with Lame-O Records.
The new EP advances the band's upcoming third full-length record, titled  Holy Ghost,  which is expected to release next year, "around when we plan on ending school," SPIN reports. The four members are currently attending Drexel University and are just a semester away from graduating. The album id being produced by Joe Reinhart (Joyce Manor) and will release with Run for Cover Records.
Read the full feature on SPIN.
Modern Baseball also begin their fall tour with PUP, Jeff Rosenstock, and Tiny Moving Parts, next week. It kicks off October 27th in Baltimore, Maryland, and runs through early December. Check out the full dates below.
10/27 – Baltimore, MD – Ottobar#
10/28 – Virginia Beach, VA – Shakas#
10/29 – Greensboro, NC – Green  Street#
10/30 – Gainesville, FL – FEST
10/31 – Gainesville, FL – FEST
11/01  – Gainesville, FL – FEST
11/03 – Tampa, FL – The Orpheium#
11/04 – Atlanta, GA – The Masquerade#
11/05 – Birmingham, AL – Saturn#
11/07 – Houston, TX – Walters#
11/08 – San Antonio, TX – Paper Tiger#
11/09 – Dallas, TX – Trees#
11/11 – Albuquerque, NM – The Works#
11/12 – Tuscon, AZ – Club Congress#
11/13 – Anaheim, CA – House Of Blues#
11/14 – San Deigo, CA – Quaryard#
11/15 – Oakland, CA – Oakland Metro#
11/17 – Portland, OR – The Analog Theater#
11/18 – Seattle, WA – Neumos#
11/20 – Salt Lake City, UT – The Complex#
11/21 – Denver, CO – The  Marquis Theater^
11/22 – Omaha, NE – The Waiting Room#
11/24 – St. Louis, MO – Firebird#
11/25 – Iowa City, IA – Gabe's#
11/27 – Burnsville, MN – The Garage#
11/28 – Indianapolis, IN – The Deluxe#
11/29 – Palatine, IL – Durty Nellies#
12/01 – Columbus, OH – Skully's#
12/02 – Detroit, MI – St. Andrews Hall#
12/03 – Toronto, ON – Opera House#
12/04 – Ottawa, ON – Ritual#
12/05 – Montreal, QC – Les Foufounes Electriques#
12/06 – Albany, NY – Upstate Concert Hall#
12/08  – Providence, RI – The Met#
12/09  – New Haven, CT – Toad's Place#
12/10 – Amityville, NY – Revolution Bar & Music Hall#
12/11 – New York, NY – Webster Hall#
12/12 – Philadelphia, PA – Union Transfer## w/ PUP, Jeff Rosenstock, Tiny Moving Parts
^ w/ Jeff Rosenstock, Tiny Moving Parts
Tags:
Jeff Rosenstock
,
modern baseball
,
PUP
,
Tiny Moving Parts