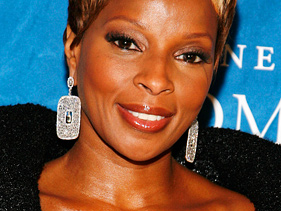 Is Mary J. Blige aiming for a career makeover? The R&B superstar covered Simon & Garfunkel's classic pop tune "Bridge Over Troubled Water" at the Grammys on Sunday, and now she's in the midst of a remake of one of the most iconic hard-rock anthems of all time: Led Zeppelin's "Stairway to Heaven."
According to Mary's rep, she's teamed up with Blink-182 drummer Travis Barker, "American Idol" judge Randy Jackson, fleet-fingered guitarist Steve Vai, and former Michael Jackson touring guitarist Orianthi for a remake of the Zeppelin tune slated to be a bonus track on the international re-release of her recent album, Stronger With Each Tear, due March 15.
"What people don't know about me is I've been a rock-and-roll fan for years," Blige told the Los Angeles Times on Tuesday night after nailing her 17th vocal take of the song. "I loved soft rock as a child. I'm full of this stuff, naturally."
She's no stranger to dipping her toe into rock, scoring an international hit with her cover of U2's "One," which she performed with Bono at the 2007 Grammys.
In fact, it's U2's singer who has been pushing her to keep at it and continue exploring her rock edge. "Some people might consider it blasphemy, but Mary's voice really is a nice match [for the song]," said the song's producer, Ron Fair. "Robert Plant's high-pitched blues thing is right in step with Mary's vocal range, and she brings the soul music to it, which is what Plant was going for in the first place."
While the Times reported that she had no problem climbing up to Zeppelin singer Robert Plant's notoriously tricky high notes and phrasing, Blige said she was careful to give it her own spin as well. "You approach it as yourself; you don't try to be the artist," she said.
"I think this song is not hard at all because it's based on pure emotion," Blige told Spinner.com after taking a few takes of the epic guitar-rock touchstone. "You gotta get lost in the rock-and-roll moment of it all, and once you get lost in the rock-and-roll moment of it, all you can do is scream to the top of your lungs or go as low as you need to go. It's not a head thing – it's a spirit thing."
Barker said that even as they were laying down the cover, it was hard to figure out exactly what the mystical lyrics to the 1971 song mean.
"In a room full of people, we were all asked what we thought the song was about, and no one knew," Barker said. "How Mary interprets the song – she feels a stairway to heaven is how women might buy a bunch of things to make them feel like they are in heaven or in peace with all these materialistic things – and then going back and looking at the words, I think she nailed it."
The international re-release is also slated to feature the RedOne-produced "Whole Lotta Love." At press time, it wasn't known if "Love" is a cover of the Led Zeppelin song of the same name.
Tags:
Led Zeppelin
,
Mary J. Blige
,
Travis Barker