The APMAs Are On!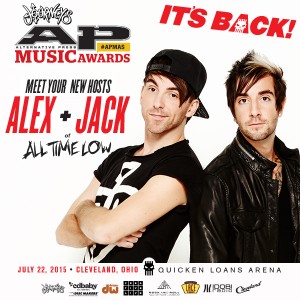 The APMAs are back in action this year, and it's all we're talking about. It's everywhere, literally. Check our homepage. Mike Shea, editor of AP Magazine, seems to have more surprises in store than we realized. No word yet on when tickets go on sale, but to read a bit more about the subject, and to remind yourself why you will go into crippling debt to be there, please refer here. Also, Jack Barakat and Alex Gaskarth are hosting, and who doesn't want to see them attempt to outdo Lebron in his own arena? (Dibs on the seats under the basketball hoop.)
Fall Out Boy For Inter-genre Cooperation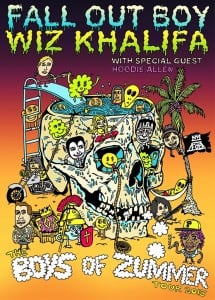 Fall Out Boy announced a co-headlining tour with Wiz Khalifa last week. They also announced Hoodie Allen would be opening. Okay, let's say that again. Fall Out Boy are actually touring with Wiz Khalifa and Hoodie Allen. Many people are wondering why this is actually happening, and what are they thinking. Is this the end of Fall Out Boy in the punk scene as we know it? We're going to vote no. They're probably thinking that it's awesome and they're Fall Out Boy and they do what they want. Who doesn't love seeing Wiz's purple hair? The idea that he will be definitely doing some performing with them isn't unwelcomed either. Inter-genre musical cooperation–get with it, people. Tour dates and ticket info for this upcoming genre peace treaty can be found on their website.
It's Time To "Say Goodbye"
Innovative pop punk group The Swellers have announced more farewell tour dates in Europe. It's a sad sad day for all the midwestern pop punk lovers who grew up with this band. Watching them go has been a painfully long process that seems to gives hope to them saying, "Hey, we still really love this, we're not going to do this. We will stay." Please stay. However, we bid The Swellers the best of luck with future endeavours and wish them a lot of success and happiness throughout their final times touring together. For more info on those tour dates and to buy everything related to The Swellers you can, to convince them to never break up, head over to their Facebook page and website.
All Time Low Are Eating People and Cats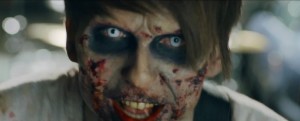 In other news, All Time Low have released a new song off their album Future Hearts entitled "Something's Gotta Give." They also released a music video, tour dates, and pre-orders that have already charted in multiple countries. Take a minute, process, slow your heart rate down, and breathe again. It's a lot in a week from a band who have been keeping everyone on their toes for months now. But let's get to the real issue here; zombie Alex Gaskarth ate cat intestines in that video, and the verdict is still not out on about how people feel about it. It's common knowledge he is a dog person, but come on! If you would like to see the gruesome event transpire in a creatively awesome video to pair with a great song, please watch. Remember: cats are friends, not food.
Letlive Banned From Disney Dreams
Our favorite rebels letlive. have been banned from the Disney House of Blues in Orlando. They speculate that "Goofy, Pluto, and most of Toontown were in protest against the decision but Chairman Mouse exercised veto powers and struck down the proposition in the end." Meaning Mickey Mouse has, once again, given the scene a reason to be a little on edge with him. We hope to see letlive do a one-off in Florida so the fans there can experience the greatness of beards and good music. As many people are curious as to why they would be banned, let's just hope they are able to play for their Florida fans. After all, curiousity did kill the cat. (And then Alex ate it.) Wishing letlive the best on the Taking Back Sunday tour!
What's Really On My Mind This Week
The Starting Line announced at their holiday show that they would be releasing new music this year. This has led to the thought process of friends, peers, bands, grandparents, and everyone in between to wonder…does this mean there will also be a tour? Will they be jetting off and performing everything new and old? We'll keep you updated as this story develops.
So now you know what drives us crazy, and how insane we get about breaking news over here at idobi. Let us know what you think. Are Fall Out Boy losing their minds? (No.) Can we convince The Swellers to be The Swellers until the apocalypse? (Probably not.) Do you think letlive should have been banned from the Florida show? (Mickey…) Is Alex Gaskarth eating people and cats the worst image ever put into your brain?! (Definitely.) Only time will tell. Until then, let us know what made you want to turn into a zombie and eat a cat throughout this week!