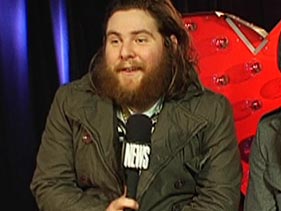 Manchester Orchestra main man Andy Hull is a pretty hirsute dude. So when he starts talking about recording a new album and he mentions that his main goal is to make the listeners' hair stand straight up, you know he means business.
"We're gonna record a new record in June. It's going to be different, really beautiful and very wide – not wide stylistically, more like it's gonna be broad and big," Hull told MTV News. "I really want hair to be standing up on your arms for the whole record – that's kind of my goal."
And while the Orchestra are still riding high on the success of last year's Mean Everything to Nothing – which bowed at #37 on the Billboard albums chart, earned them tons of critical acclaim and even generated a modest radio hit ("I've Got Friends") – the follow-up is already in the works.
"We've never been afraid of hard work," Hull smiled.
But a new album isn't the only thing they've got lined up for June. The band has just been confirmed to appear at the 2010 Bonnaroo Music and Arts Festival, taking place that same month in Manchester, Tenn. Joining them are some of the biggest names in the game (Jay-Z, Dave Matthews Band, Weezer), but they're not nervous. After all, they've learned from some of the best – and weirdest – bands out there.
"You tour with, like, Black Rebel Motorcycle Club and Kings of Leon for three months, you just have to turn up and become a rock band. And we were very influenced by that and a bunch of bands that we were able to tour with," Hull said. "We were able to tour with weirder bands, like Clap Your Hands Say Yeah! and play with Okkervil River, where Clap Your Hands are, like, this kind of weird music and the Okkervil is beautiful folk music, so we got to tour with a bunch of awesome bands and kind of get to know all these people, and we're definitely influenced by it."
Tags:
Manchester Orchestra