Electronic dance music and punk rock may not seem like two peas in a pod, but they're similar in more ways than you'd think. Structurally, EDM shares the same elements of punk music–both are fast paced, melodic, and employ catchy, memorable riffs. Typically, EDM and pop mesh together more often, but recent remixes of indie and rock bands prove that EDM can be incorporated into other genres as well.
Last year, indie record label All The Hype Records released a free compilation of EDM remixes of some favorite punk artists, proving that punk and EDM can fit together surprisingly well. The label just released their second installment last month, with remixes of PVRIS, Jimmy Eat World, Bring Me the Horizon, and All Time Low.
A big parallel between punk and EDM is the constant creation of new things. Both genres derive their sounds from other areas; punk takes cues from rock, blues, and ska, and EDM is known for borrowing samples from practically everything.
Consider the Billboard 100 this week, there are way more than a handful of EDM artists collaborating with all styles of vocalists to create a unique sound, and let's talk about the sheer amount of electronic songs topping the charts. Major Lazer worked with DJ Snake and Danish vocalist MO, who is known for her indie/electro-pop music. Pop star Justin Bieber joined Skrillex and Diplo on "Where Are U Now," Calvin Harris and Disciples doubled the EDM count for "How Deep Is Your Love," and Zedd combined forces with singer, songwriter, and producer Jon Bellion on "Beautiful Now." These are a few of the more blatant EDM tracks topping the charts this week, but artists like The Weeknd are contributing more ambient electronic sounds to Billboard as well.
It seems like EDM was made for mixing genres. DJs and producers are exploring the ways to mix electronic sounds with indie, rock, and punk. Remixes are one way of combining sounds, and some artists even encourage it. Australian indie-rockers Atlas Genius, famous for their massive hit "Trojans," are currently hosting a remix contest for their new single "Molecules" as a way of hyping up their upcoming album. The contest welcomes producers from all musical backgrounds to download the "stems," or samples of the song, and create something unique. The vastly popular dubstep duo Adventure Club cut their teeth on punk, gaining momentum after their sick remix of Brand New's "Daisy." Adventure Club have also remixed Thrice, Alexisonfire, and MS MR.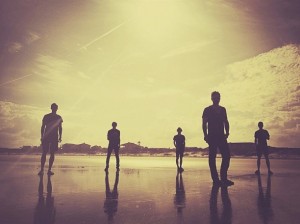 Tycho, a prominent ambient band, created a remix for Death Cab for Cutie's new single
"The Ghosts of Beverly Drive" last week. Tycho's take on the rock song provides a laid-back electronic vibe that both encompasses the mood of Death Cab's song and also Tycho's own flair for dreamy synths.
So it's not all that surprising that EDM and punk play well together. Bands with a more electronic sound are becoming popular in our scene anyway. PVRIS, twenty one pilots, and Issues all take on a style that combines the best of pop, punk, rock, and EDM production. PVRIS especially is a group that lends itself more easily to EDM, and plenty of ambitious producers on the internet have taken to remixing their songs on YouTube and Soundcloud.
All of this is why idobi is getting on the dance floor with the launch of our new electronic music station, idobi Electra. The station will officially launch at The Smithsonian's Hirshhorn After Hours supported by IDOBI tonight at the the Hirshhorn Museum in Washington, D.C. The evening will combine arts culture and nightlife culture with food, drinks, and an exclusive performance from Tycho. www.idobi.com/electra
Tags:
atlas genius
,
Death Cab for Cutie
,
MAJOR LAZER
,
PVRIS
,
TYCHO
,
Zedd