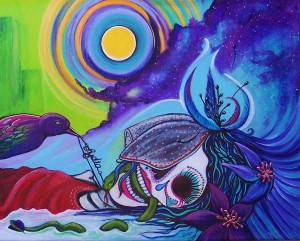 Lydia fans visiting the band's MySpace page today were met with an unpleasant surprise in the form of the following statement from frontman Leighton Antelman:
"I am anxious to say this in that I do not like disappointing people. But I do need to get this off my chest. The new music that is set to come out this July 2010, under the name Lydia, is going to be the last recordings ever put out by the band. We are very grateful to have been able to put out as much music as we have and to reach so many people."
He went on to clarify:
"This decision has nothing at all to do with a lack of output from the band. I can honestly say the new Lydia material coming out in July is the best music I've ever had the opportunity and privilege to release."
He also reassured fans that Lydia would embark on a farewell tour in July and August, dates for which can be found below. The artwork for the new album can be seen above and a new song entitled "We Clean Up So Well" is now streaming on the band's MySpace.
The Lydia Finale: A Goodbye & Farewell Tour
7/20 – Albuquerque, NM @ Launchpad
7/22 – Oklahoma City, OK @ The Conservatory
7/23 – Dallas, TX @ The Loft
7/24 – Austin, TX @ Emo's Inside
7/25 – San Antonio, TX @ Sam's Burger Joint
7/26 – Houston, TX @ Mangos
7/27 – Baton Rouge, LA @ Spanish Moon
7/28 – New Orleans, LA @ One Eyed Jacks
7/30 – Tampa, FL @ The Orpheum
7/31 – Orlando, FL @ Back Booth
8/3 – Atlanta, GA @ Vinyl
8/4 – Nashville, TN @ Exit / In
8/6 – Vienna, VA @ Jammin' Java
8/7 – New York, NY @ Bowery Ballroom
8/8 – Cambridge, MA @ Middle East Upstairs
8/10 – Philadelphia, PA @ North Star Bar
8/11 – Cleveland, OH @ Grog Shop
8/12 – Pontiac, MI @ The Pike Room
8/13 – Chicago, IL @ Schubas
8/14 – Minneapolis, MN @ Triple Rock Social Club
8/17 – Denver, CO @ Marquis Theatre
8/18 — Colorado Springs, CO @ TBA
8/20 – Salt Lake City, UT @ The Complex
8/21 – Boise, ID @ The Venue
8/23 — Portland, OR @ Hawthorne Theatre
8/24 — Seattle, WA @ El Corazon
8/26 – San Francisco, CA @ Bottom of the Hill
8/27 – Anaheim, CA @ Chain Reaction
8/28 – Tempe, AZ @ The Clubhouse
Tags:
Lydia