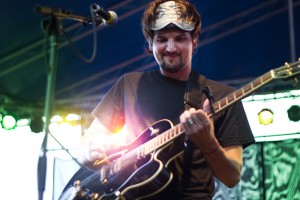 The normal buzzing and ruckus in Lowertown St. Paul is due to the recent construction on practically every street, but on July 31st, the loud noise was due to the inaugural  Lowertown Music Fest.   A celebration of Minnesota's music  scene, the festival showcases multiple hometown musicians and bands, while bringing in one international act.   The afternoon kicked off with local dance group Koo Koo Kangaroo.   Their set was no doubt one of the most interesting acts most concert attendees have witnessed, as the dance duo pranced around the closed down Sibley Street in black sweatpants and golden shoes.   Highlights include hundreds of participants in a dance-version of the hokey pokey, and that gym class parachute  you haven't seen since second grade being pulled out during their instant classic "Rollin in the Minivan".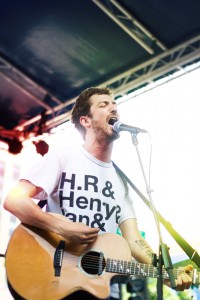 Things turned slightly more serious as the the United Kingdom's Frank Turner hopped onstage with his acoustic guitar.   His powerful acoustic anthems entranced the crowd as he played  through his most well known songs including   "I Knew Prufrock Before He Got Famous", and "Long Live the Queen".   Towards the start of his set, Turner invited a fan on the stage to accompany him on "Dan's Song" with a surprisingly successful harmonica solo. Turner's acoustic performance was one of the brightest spots on a very bright day as both fans as well as Frank Turner first-timers sang along to "Photosynthesis".     Ringing true to the song's lyrics "No one's yet explained to  me exactly what's so great / about saving fifty years away on something that you hate," Frank Turner performed a stellar set halfway across the world, and appeared to love every second of it just as much as the fans.
Local bands Peter Wolf Crier and the more acclaimed Tapes 'N Tapes tapped into the indie vein of the crowd.   Both sets were well received, yet were overshadowed by Cloud Cult, a practically indefinable band involving dozens of instruments, two artists painting on canvases onstage, and eight band members.   Needless to say, the most original and grandiose set of the day stole the show.
The inaugural Lowertown Music Fest featured the best of Minnesota's talent, and was also graced with the presence   of one of the United Kingdom's finest talents as well.   Judging by the entire city block that was shut down and packed to all corners, it's a fair guess to say that it won't be the last time St. Paul showcases it's musical talent.
Tags:
Cloud Cult
,
Frank Turner