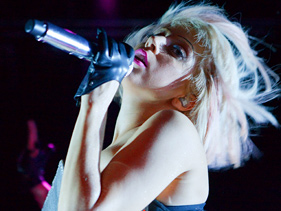 Organizers of the granddaddy of U.S. summer fests revealed the lineup for the 2010 Lollapalooza today, and Lady Gaga's name is atop the list. She is  joined by fellow headliners Green Day, the recently reunited Soundgarden, the reformed Strokes, the Arcade Fire and Phoenix.
Most of the headliners for the Chicago festival have some connection to Lollapalooza's past. Lady Gaga was a relatively unknown side-stage performer in 2007, while  Green Day and the Arcade Fire have both taken the stage at the fest.
Soundgarden were twice a part of the original touring version of Lolla, having played the trek in both 1992 and 1996. Since splitting in 1997, they have not performed live together.
The Lollapalooza gig will also be a return to the stage for the Strokes, who have not performed together in more than four years.
Joining those headliners on the bill are MGMT, Hot Chip, the National, Erykah Badu, AFI, Grizzly Bear, Spoon, B.o.B., 2ManyDJs, the New Pornographers, the xx and Switchfoot.
There are also legends like Jimmy Cliff and Devo, a jam-band or two and even Chicago-area talent, most notably soul belter Mavis Staples. You can view the entire lineup, some 120 artists, with more to be announced in the coming weeks, over on the fest's official site.
Lollapalooza 2010 will be held August 6-8 in Chicago's Grant Park. Passes are already on sale, though "early bird" packages are long gone. A standard three-day pass costs $215, with special VIP packages running $850.
Tags:
Green Day
,
Lady GaGa
,
Phoenix
,
Soundgarden
,
The Strokes