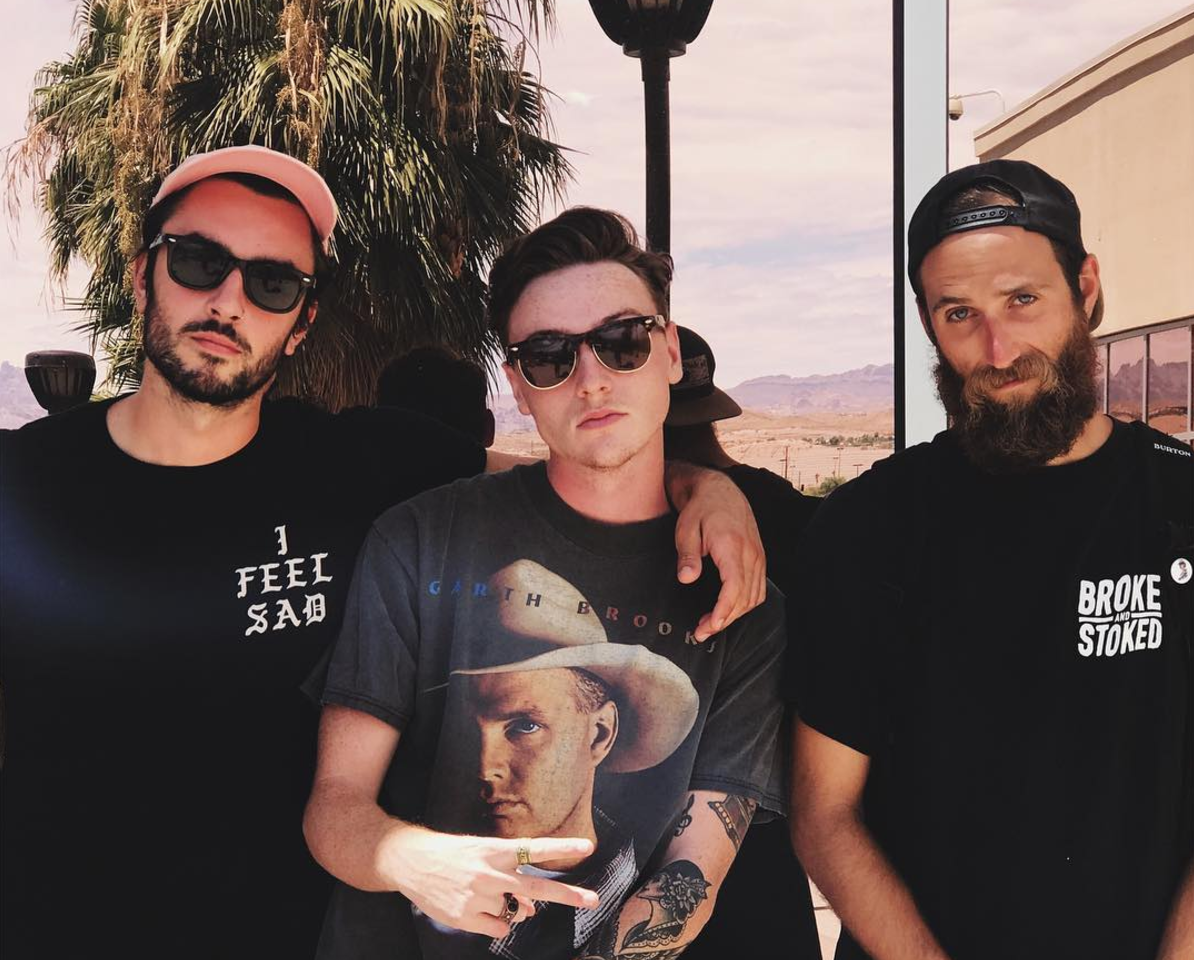 Ever wondered what it'd be like to hang out with the guys in Locals Only? Well, their new video for "Choke" will give you a pretty good idea—and it looks freakin' awesome. From taking the stage at Warped, to spending off days at the beach, to chillin' with some very good and very cute pups, the pop punk trio have been living the summer we all dream of, and they've recorded every step of the way. Pay close attention and you might even see a wild Fish appear, and some shots of the guys hanging out at the idobi studio…just sayin'.
The NY band had one hell of a journey to get to Warped—both physically and emotionally—and we're so glad they did, 'cause their sets in the video looked insane. They may be new to the scene, but they're off to a blazing start—if you dig the sound of "Choke", you're gonna love the fast, fresh, and downright infectious sound of their recent self-titled EP, which you can check out now. Everything Locals Only has achieved so far has been in crazy fast-forward, and we can't wait to see where they go next. Don't believe us? Read on to find out just what it took to get the band on the road for the summer below…once you're done rocking out to this pop punk taste of summer, that is.
"Since we were little kids, we've dreamt of playing Vans Warped Tour. I mean, Joey's been going since his Dad brought him in 2004. As a 10 year old, he swore that he would be on that stage one day. Somehow, that dream came true this year, but it took everything we had to make it happen.
Being offered to play the tour was the most exciting and nerve-wracking moment of our lives. We only had about a month and a half to prepare, and we had no idea what to prepare for. I starting waking up everyday at 3am and doubled my hours at work to pull in every dollar I could. I sold my car, my TV, and everything I didn't think I'd absolutely need and bought the van that'd soon be our home. We all quit our jobs in April. I worked a gym, Joey worked at a bar, but Jim was a teacher for children with special needs; something he went to school for and worked up to for years. There was no looking back. Something about this opportunity felt non-negotiable to us. There was no backing down. We had to do it. So we did. Well, most of us. Some of you don't know this, but we were a five-piece band before this tour. We had two members that weren't down to quit their jobs and take the risk, and that's fine, but we left them behind the day we hit the road.
On April 21st, we said bye to our friends, families, and dogs. It was snowing when we left. Maybe it was the excitement, but 60-hour drive felt like seconds, and before we knew it, we were in California. Joey and Jim had been there before but it was my first time on the West Coast and it couldn't have been more exciting. We found a fill-in drummer, played Emo Nite (our second show ever), made some friends, played some shows, and counted the days until Warped Tour started. Then, our first hiccup: Right before we left, we had a falling through with our fill-in and made the decision to leave without him.
That's when things got real. By the time Warped Tour started we were down to three people and almost out of money. I even registered as a homeless person in California and used food stamps for groceries. Nonetheless, the first few days of tour were great. The weather was cool, we were selling enough CD's to make gas money, and everything was running smooth as could be. But we were getting tired. As a new band, we were driving ourselves which meant one person drove while the other two slept, and then we'd rotate every few hours. As the tour continued, it got harder and harder. The desert was hot and the van was hotter. We were barely sleeping. One night, I fell asleep driving and swerved into a semi. We (all) woke up screaming. Miraculously, nobody was hurt, and the only damage was a broken mirror. The next morning we picked up a photographer to help us co-pilot. Literally, a day later, the van broke down in the middle-of-nowhere Kansas. I don't know the first thing about cars, so when a homeless man walked up to the van and told me what parts to order, you better believe I did that. Luckily, he was right and the parts fit. We spent the majority of our remaining cash and a few days later, we were back on the road. We missed the Nashville date, but at least we were up and running, or so we thought. About a week later, we broke down again. This time there was no fixing it. Again, I know nothing about this type of stuff, but the mechanic said it was something with the engine and it'd take a few weeks and a few thousand dollars… so yeah. We left the van in Charlotte, NC. It's still there. My uncle lent us his '95 Ford Explorer to finish out the tour and our friends in Movements took our gear in their trailer. We packed whatever we could fit in a few backpacks and kept moving. No turning back, remember? For the rest of the trip, we slept sitting up in a car seat. The same seat I'm sitting in now.
By July, we locked in another fill-in drummer and played our first show in Camden, NJ. I don't think I'll ever forget the moment production told us we were going to play that day. I broke out my guitar for the first time in months and had a hell of a time setting it up because of how bad my hands were shaking. We got on stage, and had the best half hour of our lives. Nothing else mattered. Not only we're we playing Warped Tour, but we played to some of the bands that inspired us to do this in the first place. It was absolutely insane.
So yeah, we've had our ups and downs, but who hasn't? After everything we'd been through, we still felt like nothing could stop us. Now the tour is nearing its end and we don't regret a single thing. We've made invaluable friendships and memories we'll never forget, and we are so grateful for that. We can only hope to do it all again.
I wish we had gotten more footage of it all, but we were usually so wrapped up in the emotion of what was happening that nobody thought to film. Even still, we managed to capture a lot and we put together this video for you all.
Shout out to Movements, Fit For A King, Boston Manor, The White Noise, Hands Like Houses, Neck Deep, The Gospel Youth, Something More, and everyone else for showing a new band like us so much love and respect. We don't know what we would have done without you guys.
Major thanks to Vans Warped Tour, Kevin Lyman, and TaDa Catering for giving us the opportunity to prove our worth. Another 'thank you' to Matthew Barletta and Kyle Hulett for believe in us and guiding us through this all. We appreciate you guys.
Last but not least, a huge thank you to our manager Kyle for getting a lot of this footage and to Blackwolf Imaging for making it look so pretty. You guys rule.
Sincerely,
Craig and Locals Only"
Tags:
Choke
,
Locals Only
,
vans warped tour