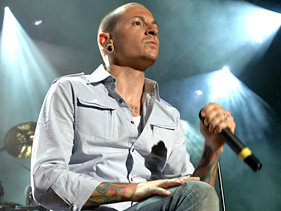 With  talks about new music for nearly two years now, Linkin Park finally made an official announcement.  The band's  long-in-the-works new album  now has a title and a release date. Their follow-up to 2007's Minutes to Midnight will be called A Thousand Suns and it's scheduled to hit stores September 14. The  album even has a first single, "The Catalyst," which heads to radio August 2.
But Linkin Park fans can actually hear the single sooner than that. Starting Friday, the band will make "audio stems" of the song available for download on  its official MySpace Music page, where fans go to create remixes of the song using the stems. The winning entry, as chosen by Linkin Park themselves, will be included on the new album.
Co-produced by Rick Rubin and singer Mike Shinoda, A Thousand Suns was recorded in the same studio the band used for  its Hybrid Theory and Meteora albums. But the latest album is one that sees Linkin Park pushing and exploring the sonic boundaries  it first mined on Midnight, which was the goal all along.
"We make records as a challenge to ourselves," Shinoda said back in January. "And the challenge this time is: 'Nobody else is making a record that sounds like this, only we can do it.' "
Linkin Park also announced that, on  its upcoming tour, the band will  be playing some songs off the new album, in a show that will be (according to a press release issued by their record label) "a celebration of sound and vision … a transformative, multimedia experience, complete with a unique blending of music and art, featuring never-before-seen visual technology."
Tags:
Linkin Park