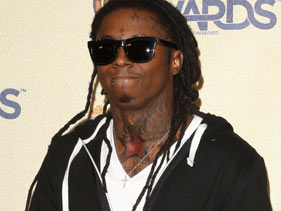 After being pushed back a few times, production is finally finished on Lil Wayne's Rebirth album, and it is ready to hit the stores.
"Expect great music. That's all I ever want them to expect from me," Wayne said after the MTV Movie Awards.
He added that this album was an opportunity to showcase the direction he has taken since his last release.
"I wanted to grow and show my growth as well," he said. "It's a difference from when you go in a room and come out and you're better and everyone says, 'How did you do that?' So with this album, I wanted everyone to see my growing pains."
Back in April, two of the producers on the album, Cool and Dre, said that the LP would have a combination of rock and rap.
"The best way to describe the Rebirth record is that it's a Lil Wayne record," Dre said. "It's where Lil Wayne is right now in his life and career – he's expressing himself musically. 'Prom Queen' came out and that's a rock record and so everybody is like, 'He's putting out a rock album and he's on the cover of Rolling Stone magazine.' Yeah, there's some rock records on there, but there's also some records where he's rapping. It's a Lil Wayne album. It's what you expect from Lil Wayne, where he's at creatively."
"It's almost like where Outkast was when it made Aquemini," he continued. "It's still a rap album, but was it really a rap album compared to all the other rap albums at that time? Andre Benjamin was evolving artistically to where he's at now – Wayne is doing the same thing, and he's not afraid to show you his growth. It's one thing we respect about him, and we feel it's something that everybody else should respect about him… he shows no fear. To put himself out there, you're watching someone as they progress in his/her career."
Rebirth is slated for release sometime this summer.