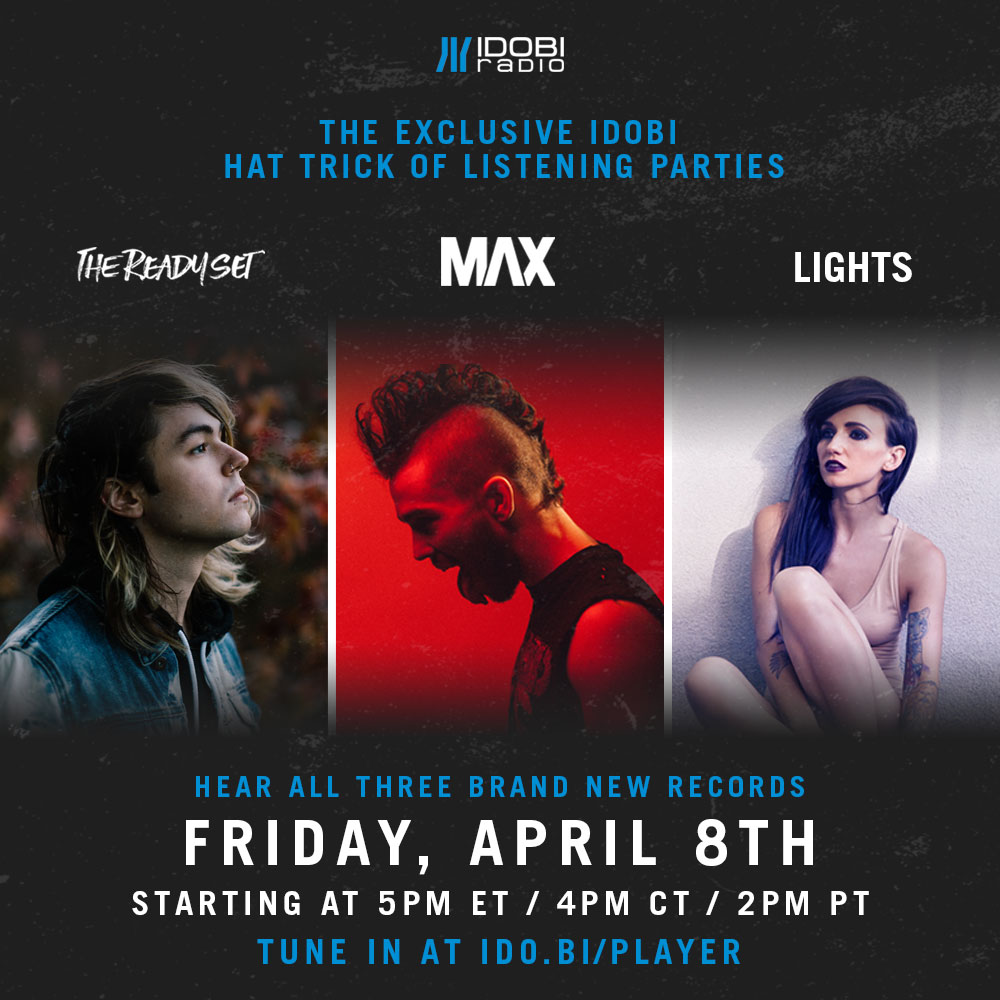 We, at idobi Radio, set out on a quest to bring you just one (1) dope, epic, incredible Listening Party for Friday Apr 8. But somehow, we ended up with a night you'll never forget x 3. This Friday, we're bringing you the brand new albums from LIGHTS, MAX, and The Ready Set. Listen in on our tuner (ido.bi/player) to hear each of the solo artists take you through their latest collections from top to bottom, front to back.
The fun kicks off at 5PM ET with a track-by-track party for The Ready Set's latest, I Will Be Nothing Without Your Love. The new Hopeless Records signee will tell stories from the making of the album, while you rock out to each of the tracks for the first time, so cancel all of your plans for the night.
Next up is New York's R&B-pop-rocker, MAX. The Nickelodeon child star turned DCD2 (Decaydance 2) hitmaker is taking us through his brand new album, Hell's Kitchen Angel. The entire record will make you turn the volume up past eleven and invite all your friends over for an epic "Basement Party" at 6PM ET.
For the trifecta at 7PM ET, get ready to sing your heart out to the pop stylings of LIGHTS. Listen in as she hosts a Release Day Listening Party of her acoustic dream, Midnight Machines–including new renditions of all your favorite songs from 2014's Little Machines, and two new songs you'll fall just as much in love with.
Once again that's:
5PM – The Ready Set
6PM – MAX
7PM – LIGHTS
So now you know when to tune in, where to tune in (ido.bi/player) and why to tune in. We totally won't judge you for setting off fireworks during your basement party at midnight and then pulling a disappearing act when the cops start knocking. At least, not as long as you promise to join us for the whole night of kickass new music.
Tags:
Lights
,
Listening Party
,
MAX
,
The Ready Set