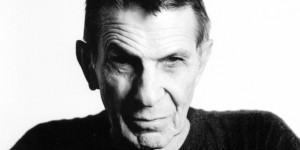 When I was a kid there were two debates: Star Trek or Star Wars? If your answer was "Star Trek" it was immediately followed by a second question: Original or Next Generation (Enterprise)? The Star Trek universe didn't stop there, though. It meandered with Deep Space Nine, Voyager, and then, finally, a full cinematic reboot was bestowed upon us with the original characters given new life by J.J. Abrams. Which leads us to now… Which leads us to today.
The actor who played one of the greatest characters of all time has passed away. Leonard Nimoy, known most commonly as "Spock" has left us. Nimoy lived a full life, finally departing today at age 83. His portrayal of Spock struck a nerve with outcasts, misfits, and intellectual types–as he always said what we wished we could have said. He was not the type of character to think of a come back three days later in the shower.
Nimoy once shunned his Spock-ness (see: I Am Not Spock) but then embraced it (see: I Am Spock) only to finally go full Spock and land himself in the current rendition, directed by Abrams, playing a tangential future version of himself that technically should not exist because of paradox things…sort of.
All in all, the man was a living legend when he was with us, and now that he's gone he most certainly will retain his legendary status. I cannot resist saying that he lived long and prospered, and it is with a heavy heart that I say we will all miss him as he ventures on to the final frontier.