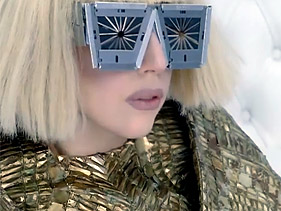 Lady Gaga might be busy touring, winning awards and keeping people guessing with her near-hourly costume changes, but producer RedOne, who collaborated with Gaga on her hits "Bad Romance," "Just Dance" and more, promises that they plan to hit the studio again soon.
"We spoke about it, absolutely," RedOne – who picked up a pair of Grammys for his work with Gaga late last month – told MTV News. "So we're gonna start very, very soon. I think within weeks, we're just gonna rock again. When me and Gaga get together, it's crazy. It's unbelievable."
With so many hits under their belts and such high expectations, he admitted that he's feeling some pressure. But RedOne, who recently produced the "We are the World" remake, said pressure has helped him produce some of Gaga's biggest songs.
"It's the same. It was a little pressure coming from "Just Dance," "LoveGame," and "Poker Face" – all these hits, they were massive. We got together, and the same magic happened," he said of reuniting with Gaga for The Fame Monster. "We did 'Bad Romance,' it was incredible. We did it on a tour bus. When we get together, magic … that's the beauty of it. She hasn't changed at all to me."
Will they top the massive popularity and undeniable charm of "Bad Romance?"
"You should wait for it," he teased. "That's the mystery. That's what's going to make it more special when it comes out."
Tags:
Lady GaGa