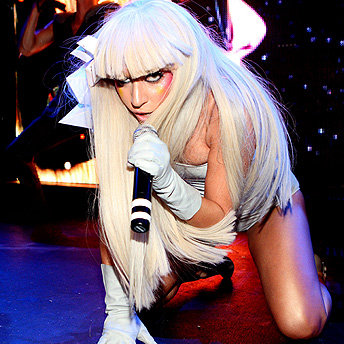 In one of the strangest collaborations this year, Lady Gaga has recruited Marilyn Manson to contribute vocals to the remix of her dance-floor anthem "LoveGame." As of now, Perez Hilton is streaming the hyperactive remix, and posted some photos of the pair in the studio.
Word first caught when Manson showed up at a recent photo shoot, absinthe in hand, to throw morbid pickup lines at Gaga and to proclaim his love of the diva.
"I was most impressed by her paparazzi shots. I thought that it looked the way that rock stars should look, as exciting as something that Warhol or Dali would do," Manson said.
Given the direction of Manson's The High End of Low, especially the LCD Soundsystem-esque "We're From America," a collaboration between the two creatively appareled musicians, even though they occupy two completely different genres, is fitting.
Manson, who had heaps of praise for Gaga, said that there was a natural connection between the two.
"She's very smart, she's not selling out, she's a great musician, she's a great singer, and she's laughing when she's doing it, the same way that I am."
And the "LoveGame" remix is not the only thing the pair will produce this year — Gaga has reportedly also lent her vocals to an upcoming remix for a song off of The High End of Low.
She is not finished collaborating, however. As reported yesterday, Kanye West revealed he will be taking The Fame singer out on tour with him later this year, and that Gaga would not be serving as his opening act. Current rumors have the pair working together for the entire show, but those have not been confirmed.