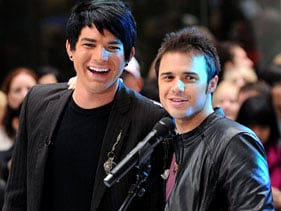 Kris Allen won the affections of the "American Idol" voters and runner-up Adam Lambert, who recently dished about his crush on the season-eight champ.
"I was like, 'Oh, sh–, they put me with the cute guy,'" Lambert said of his roommate during the show. "Distracting! He's the one guy I found attractive in the whole group on the show: nice, nonchalant, pretty and totally my type – except that he has a wife. I mean, he's open-minded and liberal, but he's definitely 100 percent straight."
Well, it turns out Allen is cool with the attention.
"I'm flattered," the "Idol" winner said, "and think it's hilarious."
Although Lambert and Allen are pals, Lambert recalled not finding the same type of friendship with worship leader Danny Gokey.
"Danny is by the book, and the book is the Word," Lambert explained. "And I respect that. Just don't try to push it on me, and we're cool."
Another "Idol" alum Lambert seems to have a hard time getting along with is Clay Aiken, about whom he recently made some not so flattering comments.
"Right after the finale, I almost started talking about [my sexuality] to the reporters, but I thought, 'I'm going to wait for Rolling Stone, that will be cooler,'" he told the magazine about coming out. "I didn't want the Clay Aiken thing and celebrity-magazine bullsh–. I need to be able to explain myself in context. I find it very important to be in control of this situation. I feel like everyone has an opinion of me, and I want a chance to say, 'Well, do you want to hear how I really feel about this?'"
Tags:
Adam Lambert
,
Kris Allen