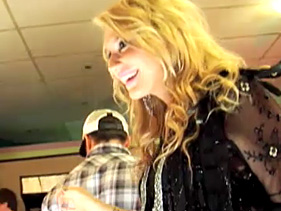 Ke$ha makes no apologies for her brash personality, which she's managed to channel into catchy, raucous party songs. And with her first single "Tik Tok" still pumping loudly from stereos, it's time for Ke$ha to assault radio airwaves with her new single, "Blah Blah Blah," off her chart-topping debut album, Animal.
The up-and-comer recently shot a video for the song along with the boys of 3Oh!3, who appear on the bratty club anthem. "The whole concept of the video was a bunch of douche-y guys macking on me as usual, and me making them eat their toupees or other various items," she told MTV News at the shoot. "At one point, I get to be strapped to this harness and bouncing around everywhere, and it was really cool."
In the song, Ke$ha ridicules a would-be suitor for "ta-ta-talking that bla-bla-bla" when all she really wants is to have sex with him.
Ke$ha explained that the dance tune originated from a discussion she had in the studio on the politics of female-male relationships. "The song came about when the people that wrote it – me, Benny Blanco, Neon Hitch and [3Oh!3's] Sean Foreman – all got in a room, and they were talking about how chicks talk too much," she said.
"And me and Neon were like, 'No, no, no, guys talk
Tags:
3OH!3
,
ke$ha