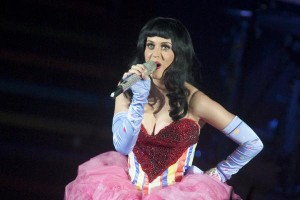 Katy Perry's tour rider has leaked and boy is she a diva. The singer's 45-page rider, which lists all her demands and needs for live performances, is a lengthy document that not only bans carnations from her dressing room but offers a 23-point "principle driver policy" for chauffeurs who may be driving her around.
Perry's dressing room, which have specific required furnishings and must contain fridges with glass doors, apparently must also include certain flower arrangements: "White and purple hydrangeas, pink & white roses and peonies." If those aren't available, Perry will settle for a "selection of seasonal white flowers to include white orchids." However, "ABSOLUTELY NO CARNATIONS." We get it, we don't like carnations either.
The best part though is the section about the chauffeurs, which notes that the drivers may not "ask for autographs or pictures, and especially not while driving!" And they better not look at her in their rear view mirror or start a conversation with her.
Perry's rider also basically allows for the singer to scalp her own concert tickets, which is a fairly divisive issue. It alerts promoters that they may be required to hold back tickets so she can sell them on the "secondary market."
The document reads, "If Company elects to use "Resellers", Promoters shall hold tickets for each Performance, in quantities and in locations as designated by the Personal Manager, for distribution to the public through "Resellers". "Resellers" shall mean any ticket agency, ticket re-seller or other so-called "secondary market" seller of tickets (such as, by way of example only, StubHub in the United States) who sell tickets to the general public. Promoter expressly acknowledges and agrees that Company shall be entitled to retain, for Company's sole account, such portion of the proceeds from sales by Resellers."
Which basically means Perry can "re-sell" tickets for an inflated price to her fans. To which we say: Ouch. SF Weekly compared the ticket prices for her upcoming show at the HP Pavilion in San Francisco and it looks like those prices are, in fact, pretty inflated. Regular tickets cost between $45.25 and $57.50 while those on StubHub, a secondary market, are going for between $88 and $450. You do the math.