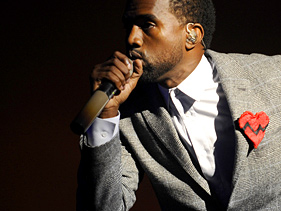 Kanye West appeared on ABC's "The View" Wednesday and took the opportunity to announce his forthcoming co-headlining tour with disco queen Lady Gaga.
Although he kept the details of the tour light, he spoke excitedly about it. In the past he has said he is a Gaga fan and recently reworked her hit "Poker Face" into "I Make Her Say," a collaboration with up-and-coming MC Kid Cudi.
"She's talented and so incredible that she's not an opening act," he said of the tour. "We're doing it together, with no opening act."
A representative for West did not provided further details at press time, but more information is expected soon.
On the show, West also talked about Kris Allen's unexpected cover of "Heartless" on "American Idol" earlier this year. West confessed that other artists sing the song better than he does.
"Everybody who sings the song, sings better than me," he joked. "The Fray is one of my favorite rock bands, they covered it [too] and that song got played on 'American Idol' twice."
West credits his ability to write strong melodies as the reason artists like Allen and the Fray are able to make his songs work for them.
"I always felt like I made melodies that were [like] country or Broadway melodies."
Tags:
Kanye West
,
Lady GaGa