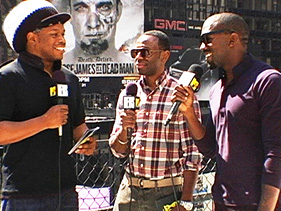 Kanye West is back in the lab, and there's only word to describe his new rhymes: "awes-mazing" (that's supposedly a cross between awesome and amazing).
"I kill that rap sh–, that's what I do," West said of his upcoming opus. "Lyrics right now, they're awes-mazing. They're basically untouchable. I'm about to take it to a whole 'nother level. I'd be scared if I was not me."
Kanye said he is always making an album, because he comes up with lyrics just by having conversations with people. He still does not write his rhymes down and has not in six years. The composing process is obviously working out for him.
"As far as rapping goes, how can I say this? Jordan, Michael Jackson – it's what I do," West recently said, comparing his greatness on the mic to what the Mikes do in their respective arenas.
"It's time for me to bust another rap album,"he added.
These are fast times for 'Ye. His book, "Thank You and You're Welcome," goes to stores July 14th, and Mr. West even gets a chance to party with Madonna occasionally. A racy picture popped up on the Net of Kanye sandwiched between Madge and girlfriend Amber Rose. The rumor mill went into overdrive, and Kanye quickly killed the chit-chat that he and Rose were involved in anything sexual with the pop icon.
"Madonna's a cool girl," he said of the woman he collaborated with last year. "We were just partying, drinking, having a good time. It's interesting people would make such a big deal out of photographs. I'm happy they make a big deal out of it. It's better for me."