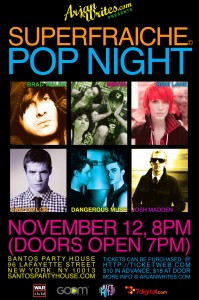 After successfully premiering Superfraiche Pop Night in June, pop music blogger Arjan Writes will be organizing the next installment of his popular pop music night on Nov. 12 at Santos Party House in New York.
Scheduled to perform is New York electro-pop sensation Menya, synth pop artist Brad Walsh, Universal/Motown act Reni Lane and Dangerous Muse. Arjan will also introduce Sam Taylor, one of the most promising pop acts for 2010, who was discovered by Kylie Minogue's right-hand man William Baker, and will make his much-anticipated U.S. debut. Josh Madden, brother of Good Charlotte's Benji and Joel, will be spinning fresh pop tunes between sets.
Josh Madden also collaborates with David Pattillo under the DJ/remix moniker True Blue. One of the songs they remixed is Brad Walsh's "I Don't Want U 2 Go."
Digital music store 7Digital will be giving away free music downloads to all people attending in support of War Child, an organization which provides humanitarian assistance to war-affected children around the world.
Tickets for Superfraiche Pop Night can be purchased at ticketweb.com.
Podcast: Play in new window | Download
Subscribe: RSS