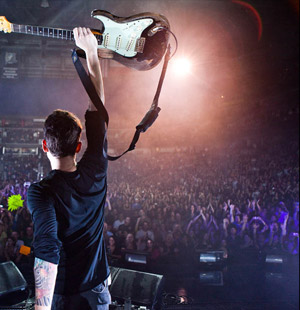 AUBURN HILLS, Mich. – Despite backlash from a controversial Twitter post, John Mayer let his music speak for itself Friday at the Palace of Auburn Hills.
After a brief video introduction, Mayer was in welcoming company as over 12,000 screaming fans welcomed him as the set opened with Battle Studies single "Heartbreak Warfare." As Mayer and his backup band, including renowned performers David Ryan Harris on guitar and Steve Jordan on drums, improvised jam-sessions leading into bluesy numbers "Vultures" and "Crossroads," it was clear that the night was all about the music.
In the set spanning nearly two hours, Mayer delivered seemingly flawless musicianship that kept fans hooked throughout. Performing audience favorites such as "Why Georgia" and "Waiting on the World to Change," Mayer kept the performance unique and interesting by playing stripped down, acoustic versions of "No Such Thing" and "War of my Life." Midway through the set, the act surprised concertgoers in an original rendition of The Police classic, "Message in a Bottle."
Not many artists could not fill such a time slot while deciding to abstain from performing two of their biggest hits, but Mayer did just that as "Daughters" and "Your Body is a Wonderland" were noticeably absent from the performance.
Between songs, Mayer was constantly friendly and gracious to those in attendance, offering a unique look into his personality. Joking about the ways of the music industry in the past, comparing his performance to cheesy Steven Seagal films, even explaining the mental writing process for "Edge of Desire," the musician kept banter light and entertaining. Obviously gracious to his backing band, each musician was given a chance to shine in various instrumental solos before the rest of the act jumped in. While he didn't dwell on his personal life, Mayer alluded to the recent problems he's facing with life in the spotlight.
"Thanks for spending your Friday night with me," Mayer told the audience. "Thank you, guys, for taking the weight off here."
For the encore, Mayer seemed to speak directly to critics as the night closed with "Who Says?" and "Gravity," as Mayer crooned "It's wanting more, that's gonna send me to my knees / just keep me where the light is."
Opening the night was Michael Franti & Spearhead, their unique cross-blending of reggae, hip-hop, folk and rock 'n' roll entertaining those in the audience, many of whom seemed unfamiliar with the act. Franti often took the performance to the fans, as many of the songs in their hour-long set were performed from within the crowd, often allowing fans to sing along.
It's unfortunate when a musician focusing only on the very art that originally put him in the spotlight is headline news. From the feel-good sing alongs of Franti & Spearhead to the blues licks and radio hits of Mayer, both audience and performer were able to put their personal lives on the back burner for a concert that delivered where it should — the music.
Tags:
John Mayer
,
Michael Franti
,
Spearhead