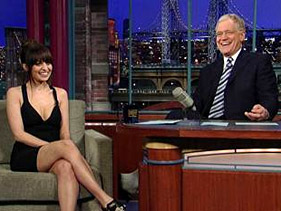 NEW YORK – While Joel Madden took to Twitter to announce the happy news, his bride-to-be Nicole Richie made the world aware of the pair's engagement during a taping of "The Late Show with David Letterman" on Monday night.
In an episode set to air on Friday, Richie, who was reportedly wearing her engagement ring during the show, revealed the wedding news to Letterman after the late-night host asked about the status of her three-year relationship, which has also spawned two kids: daughter Harlow and son Sparrow.
"Now, you're not married yet — is that correct?" Letterman asked.
"We're not married," said Richie, who was on the show promoting her clothing line Winter Kate and shoe line House of Harlow.
Letterman then followed up with, "Are you engaged? Are you planning to get married?"
"We actually recently are engaged, yes," Richie confirmed.
"You are engaged?" Letterman responded to the news, "Oh, congratulations, that's nice … a lot of people will have children and then they don't want to rush right into the marriage – you know, they wait 'til the kids get out of college, then they get married."
Madden first tweeted about their engagement in a post that has since been deleted.
"Yep. I'm engaged. Very happy," he said. "Yeah, we've been engaged for a while, so you're all kind of late on that. But thanks for the hoopla all the same."
However, on Tuesday morning Richie appeared on "Live With Regis and Kelly" and made no reference to her engagement and wasn't wearing an engagement ring on the morning talk show.
Tags:
Good Charlotte
,
Joel Madden
,
Nicole Richie