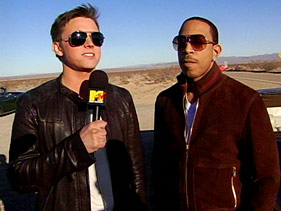 Jesse McCartney is looking to take his career from boy-next-door pop singer to edgy R&B crooner, and his new single seems to be paving the way for the transition. Usually known for sugary pop hits like "Beautiful Soul," McCartney decided that wanted to work with Ludacris for the remix of his song "How Do You Sleep?" Now the pair promise that the Sean Garrett-produced track is going to be the jam of 2009.
"We're setting the bar high for 2009 features," McCartney told MTV News on the set of the track's video. "It's gonna be a big year. It's gonna be a big song. My boy Sean Garrett, who is probably one of the biggest songwriters of our generation, sort of facilitated the whole thing. Sean called up Luda, Luda hopped on the joint, and here we are shooting the video."
It didn't take a lot of convincing to get Ludacris onboard for the uptempo version of the song about missing a lost love, a year after breaking up. Once he heard about the concept for the video, he knew it was a project that he really wanted to be a part of.
"You have the Ludacris element, with me car-surfing on the hood on one of these old-school cars," he explained. "And I said, 'As long as you have one of those old-school cars and big-ass chains in a video, I'm down.' … What else do you want in a video?"
Well, apparently there was one more element the guys needed to complete the feel of the video: hot women. "We're moving through the desert at high speeds, like 80, 90 mph," McCartney said. "And I'll be jumping in and out of cars. I'm jumping in and out of cars, talking to different girls. Fast cars, fast women."
"Old-school cars, big-ass chains and hot women … that's it! You don't need an explanation to that,"  Ludacris jokingly added.