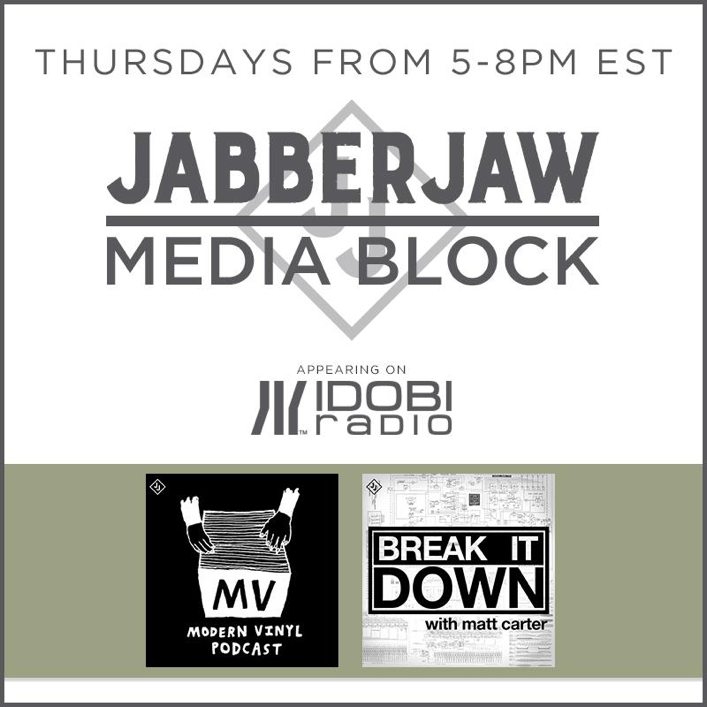 Thursday nights just got even better here at idobi Radio. You already listen in at 9PM ET to hear Gone Fishkin's pop punk agenda, but now you'll want to have your browser (or app) set to idobi.com a little earlier.
Beginning at 5PM ET Modern Vinyl rips the airwaves with in depth reviews and intriguing conversation, followed by a block of Jabberjaw powered idobi music, and then Break It Down with Matt Carter breaks down the technical side of the industry at 7PM ET. These shows are joining the coveted idobi Radio family by way of our new partnership with Jabberjaw Media. The company, founded by Matt Carter (Emery, The BadChristian Podcast), Nick Bunda (BCPOD Producer), and Mike Mowery (Outerloop Management) couldn't be a better fit for the idobi brand. Programming director Eddie Barella stated:
"Jabberjaw Media's lineup of podcasts is the perfect compliment to the idobi Radio mission. We couldn't be more thrilled to share Jabberjaw Media shows with the loyal idobi audience and are looking forward to what the future holds!"
With exclusive episodes and innovative ideas, highlighted by thriving members of the music industry, we're excited to bring Jabberjaw Media to our listeners.
Tune in this Thursday (4/7) to catch Modern Vinyl hosts Chris Lantinen, James Cassar and Michael Escanuelas discuss the latest album from Weezer, and hear James Paul Wisner join host Matt Carter on Break It Down.
Subscribe to Modern Vinyl on iTunes.
Subscribe to Break it Down on iTunes.
Tags:
Break It Down with Matt Carter
,
Jabberjaw
,
Jabberjaw Media
,
Modern Vinyl