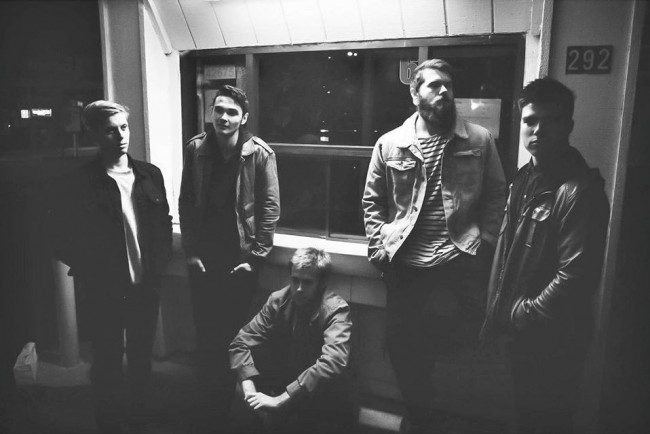 After first earning their stripes as indie band Breach The Summit, Olen Kittelsen (vocals), Sam Beresford (keys), and Jacob Berger (guitar) have reincarnated themselves as Armors, now joined by Kody Buxton and Tyler Mathews on bass and drums respectively. With just a couple shows and songs under their belt, Armors has already been making waves with their smooth, anthemic hooks. idobi senior writer Catherine Yi caught up with Olen and Sam to discuss the recent changes, the thrill of live shows, all the Godzilla movies ever made, and more.
You guys were originally in a band called Breach The Summit. What was the reason behind the name change and what makes Armors different from your previous band?
Sam: Breach The Summit had been a band for about four years. It was with Olen, myself, and Jacob, our guitarist. Since the band started, the music has changed a ton: Kody joined on bass and Tyler joined on drums. Between that and the music change, it just felt like it wasn't even close to the same band. We felt like we needed to change things up to accurately represent ourselves.
I listened to your song "Parasite," and it has a pretty cool, not only alternative, but also R&B feel to it. I was wondering what were some of your major influences going into Armors?
Olen: Funny enough, Kody also raps and he's an awesome wordsmith. He comes in with a lot of hip-hop influence, so when he and I write together, it creates this cool little fusion of R&B and dark alt music. That was the influence behind it. Kody was a big part of why the song is the way it is for sure.
Sam: It's interesting to watch when they work together. Olen writes these big, catchy pop melodies that are beautiful and soaring. Everything Kody writes is much faster and you can immediately tell that it's influenced by rap. When they come together and work on that stuff together it's really cool to see. "Parasite" is a perfect example of the result of that.
Will we hear Kody rapping on any new songs?
Olen: Definitely. That's happening.
Sam: It will happen at some point.
Olen: We haven't tracked anything with him rapping yet, but we do have a couple songs that we're experimenting with and we play live. So if you come to any of our upcoming shows, you'll hear Kody rap.
Cool. I know "Parasite" hit number one on KROQ's Locals Only. How does it feel to be getting radio airplay already and already hitting those chart spots?
Olen: KROQ's just a huge, huge supporter and we couldn't thank them enough for getting behind it. The ranking system depends on votes so the fans are the ones that are keeping us on there and really pushing KROQ to spin us. We couldn't be more thankful for that.
Sam: Yeah, he said it. They've just been really helpful with promoting music and promoting our shows. They're really just doing all that they can for us.
Your new lyric video of "Old House" just dropped. I was wondering what was the reasoning behind all the Godzilla imagery?
Sam: That was actually spearheaded by Kody. When he initially heard the song, for whatever reason, he was reminded of that movie. He had watched it a lot of times in his childhood. So he took the footage and pieced it together. I'm not sure how he experimented with this, but he played parts of the movie with the song in the background and really liked how the visual and audio combination was. He distorted the footage, like with the mirror image and stuff. When he showed it to us, we were just like, "That's awesome!"
Olen: The song is sort of about broken homes and I guess the destruction of Godzilla paralleled the song in a unique, interesting way so that's where the pairing came from. It was Kody's brainchild for sure.
Have you guys seen the movie?
Olen: I've seen both newer movies. The one with Ferris Bueller, what's his name…
Matthew Broderick!
Olen: Yeah I saw the one with Matthew Broderick.
Sam: The one that came out like a year or two ago?
Olen: No, that was the one that came out like 2000. And then I saw the newest one with…
Sam: I saw that one. Walter White was in it too.
Olen: What's his name?
Sam: Bryan Cranston.
Olen: Bryan Cranston, yeah. Talented guy.
Yeah he's awesome. Did you guys have to get that video licensed to use?
Olen: [Laughs] I mean, it's kind of a gray area. Technically I think it's old enough to where it can be used, but Kody had to mess up the footage. He had to reverse some things and just distort it and really dirty it up so we could use it.
Sam: We'll see if we get sued.
Olen: Yeah, if we get sued, you know, it's fine.
Well, maybe it'll help get some publicity for the song.
Sam: [Laughs] Any publicity is good publicity.
Currently there are only two Armors songs out in the world. Do you know when we can expect to hear more?
Sam: That's definitely something that we're planning for this year. We haven't 100% decided what/when it's going to be. We've got a pretty large catalog of songs that we're going to pick from and try to shape in a way to make it a cohesive EP or LP. So we will definitely be releasing some sort of extended record this year, but it's to be determined.
How was recording with Adam Castilla from The Colourist?
Olen: It was a really cool experience. We emailed The Colourist spring of last year because we were both playing Firefly Festival in Delaware. We met up with them there and just hung out for a little bit. We watched their set and they watched ours. When we got back to Southern California, Adam offered to produce some songs for us and it was really cool getting to work with him. In a lot of ways, we're following in some of their footsteps of what they've done. We're from the same area and we're both going for that alternative sound. He lent us a lot of his knowledge that he's learned, as well as pushing us to develop our sound a little bit more. He was pushing us in our individual instruments to do things that we weren't normally comfortable with. That was really helpful for all of us.
Sam: On top of that, he's been a wonderful friend and mentor overall to the group, and really helped us move forward.
Just to wrap up, with this new band, what is the vision of Armors?
Sam: With this name change, it's a fresh start for us. We've got Tyler, who's a recent addition to the band. We're really just looking to take things on a bigger scale. The reason we're all in a band is because we want to tour and we want to move to that national level. Like I said, that show we played last month was one of the most fun shows we've ever played as a band. We want to eventually create night after night of that. That's the ultimate goal for us.
Olen: There's absolutely no better feeling. Especially when people are singing along and are so into it. The live show is the reason we do it.
—
If you're in California check out Armors at any of these sweet shows:
3/8/15 – House of Blues – San Diego
3/9/15 – The Satellite – Los Angeles
Also check out the lyric video for "Old House" featuring the highly controversial Godzilla footage below.
https://www.youtube.com/watch?v=j3Rck0A_HMo
Tags:
armors