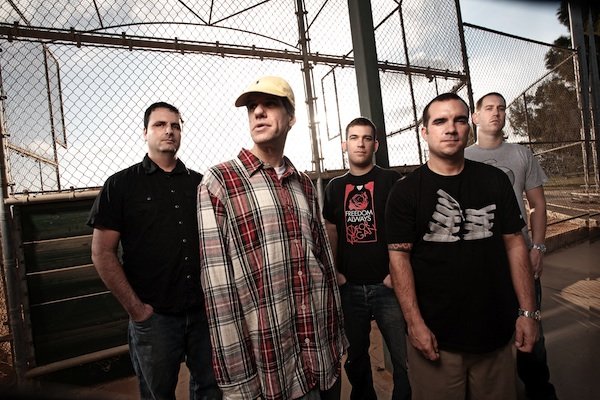 Not many hardcore bands, let alone any band, can say they've been around for nearly 20 years with no hiatus, but Bane can. This year the band will be releasing their final album Don't Wait Up  on Equal Vision Records and plan to make 2015 their last year as a band. idobi writer Alexa Gallo sat down with singer Aaron Bedard at Today's Mixtape Festival to talk about the band's legacy, upcoming album, and the changes that have occurred in the hardcore community over the years.
Bane will be putting out your final album, Don't Wait Up, in May through Equal Vision Records. Why did you decide that now was the time to release a final album?
At first we decided that we knew we wanted to break up, we were ready to find a way to walk away from this. Early last year we planned to break up at the end of 2014, but as last year went on we decided there was still more we wanted to do and be a band for a little bit longer. We decided in order to do so we needed to have another record and knew realistically that it would have to be the last record. This way we can tour through this year and into next year, wrapping things up sometime in 2015.
We teamed back up with Equal Vision for this release and we haven't released a record with them since 2005.   Between then we released some 7"s with other labels and weren't sure if they were going to have us back — they don't put out a lot of hardcore records anymore. They we're psyched and totally behind, as soon as they said they wanted to release it we stopped worrying about who was going to put the record out.
Does the record focus on the same themes and sound as your past releases?
For the most part. It's a little heavier in that I had to face the fact that we had to say goodbye to this. We've been a band for a very long time and I think that crept into the lyrics more than I initially expected; it's a very somber record at times. There are still a lot of very typical Bane songs that focus on high school and hardcore.
The album cover is a skyline with some houses, which is much different than album artwork you'd typically use. Does it have some significance to you?
 We're going out and we might not be coming back until very later on. Pete found this artist that had this series with a bunch of buildings late at night and early in the morning with a couple of lights on in the window. The vibe translated to what we were going for and we fell in love with that particular painting. We like the idea of not having a typical cover with a live shot or something. The artist let us have the painting for a really good price and we're very happy with it.
Having been in a band for so long, what is the biggest change you've seen in the scene from when you started until now?
When we started the Internet wasn't around and there wasn't GPS. You had to work a little bit harder to get from Point A to Point B and to promote shows in order to get your band out there. Now things happen so rapidly, that for me would be the biggest change. Technology and the Internet have made being a hardcore band so much easier. I'm not saying that like some old man, it's great and exciting change, but sometimes you look back and are like man we had to work a lot harder to get what we wanted.
Do you think the increase in technology has created a loss of respect amongst the younger generation?
 I don't know, that's a good question. Sometimes I wonder if I had any respect when I was a kid. I think part of being a teenager is that you don't realize what that concept of respect is yet and that's part of the fun. That's part of what's interesting about the hardcore community is that it's made up of a lot of young kids that don't know everything they think they know yet. Part of the beauty is that they're going to learn as they go through.
How do you feel about hardcore in a festival setting?
It's not my favorite to be completely honest. It's a necessary evil and the way things are now. I'm a big fan of a four band bill — getting in, hanging out, seeing some bands, and going home.   Festivals are hard because we have a shit ton of friends here so you want to catch up, but then there's a band playing you want to go watch. It's like sensory overload these all day things.
What are some upcoming bands in hardcore you think people should be on the lookout for?
I really try to keep up with younger bands because I genuinely love hardcore. I get psyched when I see a young band who truly gets it and truly means it. There's a band from Boston called Intent that I really think people need to look at and a band from California called New Brigade who are fucking fantastic.
Having played so many shows, what is the craziest mosh pit experience you've witnessed?
We were on tour with Hatebreed back when they released Perseverance, which is just like the most punishing record. I saw some crazy shit. I saw a dance floor where there were people climbing up the wall just to get away from people who were just murdering kids in the pit in Salt Lake City. Seeing a person physically crawl up the wall just sticks out to me.
What's the plan for Bane for the rest of the year?
After we release the album we'll be doing a U.S. tour in May/June and then hit festivals in Europe in July/August. We'll aim to do another U.S. tour later in the year and ideally hit South America. We have a laundry list of things we want to do one more time and the hourglass is running out, so we'll be trying to stay on the road as much as possible.
Tags:
Bane
,
Today's Mixtape Festival