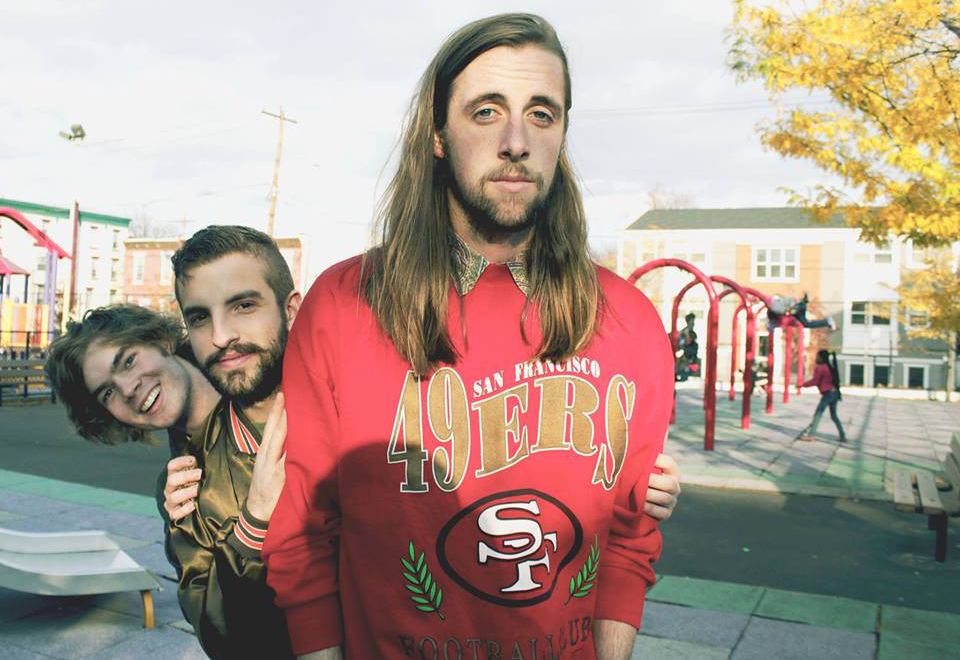 If you aren't yet familiar with W.C. Lindsay, now is the time to get on board. This Philly electro-pop project – self described as "The Beastie Boys watching The Breakfast Club at Warped Tour" – has a cross-genre appeal that is garnering widespread attention. The newest single, "Hum & Roar," just premiered on Brooklyn Vegan, and already has fans hungry for their upcoming full-length. idobi writer Alyssa Dempsey talked with frontman Will Lindsay about working with Big Footprints Records, the thrill of a live show, and the upcoming album Easy Victim, Charitable Deceptions.
What motivated you to get into music?
At first, it was my dad. He always had guitars lying around the house and played for me occasionally, and I always wanted to be able to play too. As I grew a little bit, I picked up the guitar, started playing the upright bass in the school orchestra, formed a band in sixth grade that served exclusively to cover Jet and The Doors (we were called The Walls), and after those early years, I haven't been able to get enough.
What is most important to you when writing a song?
It totally varies. To me, performing live is one of the most crucial components of our band, and I often think about how we will be able to translate a song to the stage when I'm writing it. There's nothing in this world that compares to a huge crowd screaming a big chorus back to you, and I like to create choruses that lend themselves to that. Sometimes I just get an idea though, maybe a melody or a guitar part, and it sticks with me for weeks and I have no choice but to lay down a take.
You've shared the stage with bands from Air Dubai and twenty | one | pilots to Dads and The World Is… Do you consider yourself somewhat of a musical chameleon?
Absolutely. My bandmates and myself have been influenced by such an incredibly diverse body of music, and it comes out in both the music we create and the shows we play. Plus, we're all about energy, and most crowds are down for that. You get wild, they'll get wild, regardless of the kind of music they're there to hear.
You have your full-length Easy Victim, Charitable Deceptions coming out in April. What was your vision in creating this record?
Easy Victim, Charitable Deceptions is a dichotomous work. The first half deals with youth as a youth – it deals with the imperceivable and infinite freedom coupled with the desperate longing to mature beyond the confines your age presents. The second half deals with reaching that maturity and the combination of dissatisfaction and nostalgia that comes with it. It's a record about the grand cycle, whatever that is, and what it means to occupy a space within that narrative.
You're putting out the new album via charity label Big Footprint Records. How did you get involved with them?
Big Footprints is the brilliant brainchild of Brendan Lukens, our best friend and drinking buddy, who also happens to be in Modern Baseball. Last year he putting together the astounding "Big Comp" which featured one of our songs as well as 74 other great songs by great bands, and raised a boat load of money for charity. He is continuing forward with his project and his determination to give back, and we are proud to be releasing our record with him for these reasons, as well as the fact that he's just a great dude.
How does the Philly scene influence your own music?
The Philly music scene doesn't influence our music as much as it does our performance style. Through performing in Philly's basements and DIY spaces, we've developed an aggressive and energetic live show, with lots of emotion and plenty of sweat.
Who would you be most excited to tour with?
Pearl Jam and Modern Baseball.
What has been one of your most unforgettable memories while performing?
We recently performed in Columbus, OH and got a genuine encore. I am very much against encores as a thing of habit – way too many bands walk off without playing their single, make people who aren't even cheering wait around, and then come back to play their most recent hit. I hate that, and we will never do it, I promise. However, this was different. We had just played the longest set we've ever played, and didn't have any more songs prepared. The encore was overwhelming, and pretty aggressive, so I went back on stage and played "Folklore and Tall Tales," a song we almost never play anymore, with just my guitar. The sound of the crowd singing along was overpowering, and I could barely even hear my own voice. It was a great moment, and it was our first real encore. Completely humbling and totally rad.
What are some of your favorite things outside of music?
We love good coffee, good beer, disposable cameras, and good conversation. We're all born travelers, so tour is a great excuse to do that, but we love it apart from touring as well. I love Jarritos Mexican Soda, George loves rice, and Richie loves orange juice.
What's up next for W.C. Lindsay?
Easy Victim, Charitable Deceptions is out on Big Footprints Records in April, and we'll be on tour all spring. Let's party.
Tags:
W.C. Lindsay