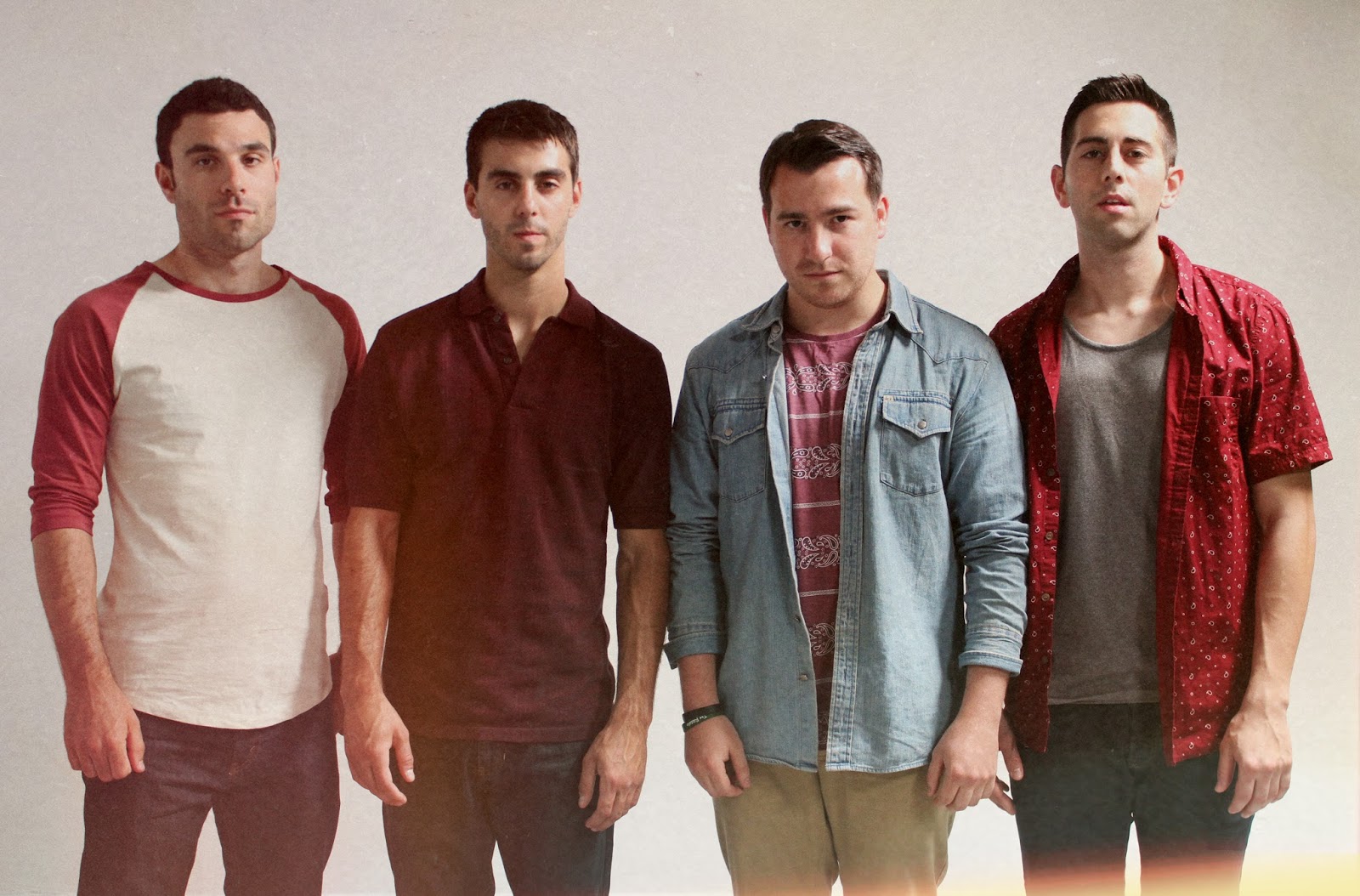 Long Island's NGHBRS have become one of the scene's most buzzed-about bands in the month and a half since their music video for "Hold Up Girl" – the world's first Instagram music video – went viral. We sat down with vocalist/keyboardist Ian Kenny, bassist Eric Vivelo, and drummer Jordan Schneider at CMJ to talk about the video, their new record Twenty One Rooms, the experience of recording in a haunted mansion, the greater New York music scene, and more.
Check out photos from NGHBRS' set at our CMJ showcase here!
You guys have gotten quite a bit of hype the past little while with your new video for "Hold Up Girl." When you guys first came up with the concept for that, was it just some crazy idea that you never thought you'd be able to pull off or did you think you would actually be able to see it become realized and get the response it did?
Jordan: It was more like, "I'm not sure how we can pull it off, but we have to."
Ian: Yeah, it was like, "We have to pull this off — how are we going to pull this off?" And then we did.
Jordan: It took a lot of work. [laughs]
I believe it. How did you guys actually go about the recording? The number one question that I've seen online seems to be, "How did they do that?!"
Jordan: Well, I don't want to give away all the secrets, but there is an app that allows you to mirror the iPhone onto your computer screen, so we screencaptured my computer screen, which was being controlled in live time by our hands scrolling on an iPhone. So the most difficult part was not the recording of that or even the editing — it was actually mapping out the Instagram stuff.
Eric: Cause that was all done live.
Ian: Yeah, there was just a lot of pre-production involved with like, gathering all the footage of what the little clips were gonna be and then organizing what order to put them in.
Jordan: We made a bunch of fake Instagram accounts and stuff.
Ian: Yeah, and we had to upload everything backwards — it was like a backwards map because of the way that Instagram is.
How many different attempts do you think it took?
Jordan: Two valid attempts.
Ian: We split it up into four sections, and we did like two takes of each, cause the way Instagram was, we had to just get a take and whatever it was, it was.
Jordan: Because of the concept, it was a lot of trial and error. So there were things we were like, "Oh, we did that wrong, we have to go back and do it again." That was just the nature of the concept.
Eric: I don't wanna give away all the secrets.
Jordan: I think we gave away all the secrets.
Ian: We did.
I was expecting like, "Yeah, it took us a hundred different tries to finally get it right."
Eric: [laughs] It was just practicing.
One of the things that has been coming up a lot at the CMJ panels I've been going to is that in 2013, with the way the music industry is, you can't just be a good band with good songs anymore. You have to be good businessmen and do hype things and go viral and things like that, and I think you guys can definitely speak to that, because the record came out in July but you've seen so much more attention from just this one video.
Ian: Absolutely. I think it's just…you gotta be proactive thinkers. With the music it's like, we could play our instruments, we practice all the time, but you have to take it to the next step and ask, "Where can we take our music? Where can we be proactive with it and get it into everyone's ears, not just people who listen to this kind of music?"
Eric: And like, no one listens to albums anymore. It's the sad truth, but people want quick things.
Jordan: And there's just so many bands. It's so easy for everyone to promote themselves in a professional manner, so we always try to take it a step further and stand out.

It's a total double-edged sword, because it levels the playing field and makes it easier for everyone, but it also means now everyone has this equal opportunity so —
Ian: It's just flooded.
Exactly. What are some other bands that you guys think are really killing it with not only making good music but making sure they stand out in terms of social media and everything else they're doing?
Jordan: Well, the clear one is Mutemath.
Eric: That's one of our favorite bands.
Jordan: Even when we were thinking about this video in particular, we did reference OK Go a lot cause obviously they completely killed it with their videos.
I feel like they pioneered the band viral video.
Jordan: They did. Absolutely.
Ian: We all have our own individual, very different music tastes.
So stepping back a little and talking about the recording process of the album — we're talking about how to be in a band, you need the internet side of things, you need the social media side of things, but you guys almost did the opposite and took yourselves completely off the grid for two months recording in a supposedly haunted mansion. Did you go crazy?
Ian: [laughs] No. It was refreshing, to be honest.
Jordan: It was a beautiful experience.
Eric: It was beautiful. I miss it every day.
Ian: We could focus and not be distracted by the other elements of our band and just focus on the music. And that, I think, is very important too — not trying to do everything at once. I think you need to be organized and have your focus areas, and then you can kind of strategize the release and things like that. But yeah, it just came down to music those two months and being inspired.
Were you worried at all about disappearing for that time and coming back?
Jordan: A little bit, but I mean, we didn't really let it bother us too much. We didn't really have anything we wanted to change about it. I don't have any regrets about that. We just believed in the album and believed in the music and wanted it to come out the best we could, and believed that it would result in better things down the line when we were ready to come out of our little haunted mansion shell. [laughs]
Did you guys have any crazy experiences with the mansion being haunted? Anything weird happen?
Ian: The only thing was the one door. The house was split in half — we lived and recorded in one half of the house, and the other half was like, really beat down and gross and creepy. So there was one door that led to the other side of the house on the second floor, and we'd always close it at night, and in the morning it was always open.
Eric: You had to really close this door.
Ian: Yeah, like slam it. And every day it would be open.
Eric: I still to this day think that it was Jordan that opened the door every day. [laughs]
As long as the drummer's being blamed for something.
Eric: Exactly.
Jordan: I actually read online about this house and its history. It was a museum and after it closed down, a caretaker lived in the house by himself, and according to rumours online, he said he'd seen several visions of the people who used to live in the house, which was like a famous family. He saw them and he also saw children running, and he saw a man walking three dogs on a leash or something like that.
Eric: There was this really wild room on the other side of the house. It was just a small, almost closet, and it was just a wooden chair underneath a hanging lightbulb. That's it.
Ian: And the chair was in the middle of room, positioned perfectly underneath the lightbulb. We're like, "Did someone hang themselves here?"
Jordan: Whenever we had visitors, one of us would go in the room and swing it so when you walked past the lightbulb would just be swinging.
That's so creepy. Do you think if a caretaker were to live there he would see visions of you guys recording?
Jordan: Absolutely.
Eric: I hope so.
Ian: They actually renovated it after we left.
Jordan: The day we moved out, a family moved in. They started building apartments there.
So obviously you couldn't go back to the same building, but are you planning on going back to that kind of space for the next record and isolating yourselves again?
Eric: Definitely. It's the only way to do it.
Jordan: Yeah. Like I said, it was just such a beautiful experience that was so focused and just like, about the music, and that's just what we wanted to do.
Ian: That's what making records is — taking that snapshot of time being able to listen back to it.
Jordan: It almost feels like this weird point in our lives where we can't even like, necessarily remember — it feels like it didn't happen, almost like an out of body experience. Very strange.
I don't know if I'm completely convinced that you guys weren't haunted by spirits for that time from the way you're talking about it.
Jordan: [laughs] Haunted by something.
Haunted by rock and roll.
Ian: Not haunted — enlightened.
Nice. So obviously the album's out, you guys have gotten this extra kick from the video — what kind of new doors have you seen opening for you? Other than the door in the house.
Ian: Just better opportunities as far as getting in front of more people and playing bigger shows. That's kind of the plan — just take that and go with it. I think everyone needs to see us live to really grasp what we did on record and believe what we did on record. It's like, completely a different experience. So I think we're just gonna focus on that and just get in front of as many kids as possible.
Nice. Is there anything else that you guys are hoping to accomplish on this album cycle?
Jordan: Definitely. We're trying to get our whole team together. That's what this video did help us do as well — we gained a lot of interest around the industry. People that were really impressed with the fact that we not only did it but did it ourselves and we had the drive to have an idea and just figure it out and do it.
Everyone's very into the independent success story right now.
Jordan: Yes, absolutely.
I know you guys were talking about how you each have your own individual interests musically, so I'd love to hear from each of you about what you're jamming right now.
Ian: I'm like, completely obsessed with Tom Odell. He's a singer/songwriter from the UK and his record's called Long Way Down. I actually won tickets to see him in DC like two weeks ago and it was awesome. Totally like, new age Elton John and it's so cool. He's getting a lot of buzz.
Jordan: I've been jamming Local Natives, their album Hummingbird. Totally engulfed by that album.
Eric: I haven't really found anyone lately that I've been rocking. I tend to keep on going back — like, I've been killing Audioslave for a while. But a newer band — I think Tuneyards are doing something really different and really amazing. It's a girl and I think two guys from Connecticut and they just play wacky music. I mean, she's just a wild musician — she's got a crazy voice. Definitely check them out.
Just to wrap things up, we are here for CMJ, and there's just something about the New York music scene that has this insane energy. You guys, being from Long Island, there's an awesome scene there too — I feel like the whole area has this energy when it comes to music. Can you guys speak to that?
Ian: It's just so eclectic. I think the city is such a melting pot and big canvas for people to collaborate and funky sounds to happen. The Long Island sound kind of shifts and gets like, weird when it hits the city. It immerses — there's the funk, there's the prog rock people, there's the indie scene. It's unreal.
Jordan: There's also just so much history in Long Island and New York. And it's funny like, everyone kind of knows each other — everyone has a friend who knows a friend who knows a friend —
Ian: That knows this guy from this band.
Jordan: Yeah, so it's huge and very eclectic but it's also very small at the same time. I definitely feel very lucky that we're a part of it and that when we play local shows, those are in Long Island and New York City.
Ian: I don't think our band would be the same band without being from this area.
Are there any bands from the area that you think we should be keeping our eye on?
Jordan: There's this new band called Peru, but they don't have anything out yet.
Ian: And Coasta.
We love Coasta.
Ian: Nice! We share a practice space with them. They're good dudes. They're killing it right now.
Cool! Well, thank you guys so much for talking with us, and have an awesome CMJ.
Tags:
NGHBRS